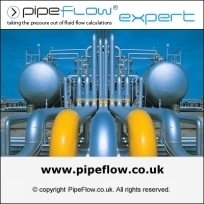 Pipe Flow Expert Software can provide accurate flow, pressure loss and energy calculations that mean engineers no longer have to oversize a pump, or specify incorrect pipe sizes, simply because they cannot perform the necessary calculations.
Wilmslow, England (PRWEB) July 1, 2010
PipeFlow.co.uk announces the release of Pipe Flow Expert Software 2010, and asks "Can Pipe Flow Expert help to save over 1 million tonnes of carbon emissions?". Pipe Flow Expert is a premier software application that helps piping engineers to design energy efficient pumping systems and to correctly size pipe work. The Pipe Flow Expert software runs on Microsoft Windows, analyzing, solving and calculating the fluid flows, pressure drops, pumping requirements and energy losses for both open and closed loop pipe networks.
Pumps are the single largest users of electrical energy in industrial and commercial applications in the UK. The annual power consumption by pumps (currently 47TWh) accounts for 32% of total motive power consumption by these sectors. However, because pumps, the systems in which they are installed and the conditions under which they operate, are often not optimized, considerable amounts of energy are wasted. [Source: BPMA, British Pump Manufacturers Association]
There is now more than enough empirical evidence to show that with properly designed pipe systems and appropriate pumping technologies, correctly operated, actual savings of 7 Twh per annum are achievable by 2020 (equivalent to the output of one large fossil fuel power station).
Not only are there significant savings in operating costs to be had, but just as important is the reduction of approximate 1 million tonnes per annum in carbon emissions! This would be a valuable contribution to UK Government's goal of reducing total carbon emissions by at least 22 million tonnes per year, by 2020.
"With today's software programs like Pipe Flow Expert 2010, there is no longer any reason not to design energy efficient pipe work and pumping systems. Pipe Flow Expert can provide accurate flow and pressure loss calculations that mean engineers no longer have to oversize a pump, or specify incorrect pipe sizes, simply because they cannot perform the necessary calculations.", said David Gardiner of PipeFlow.co.uk.
The BPMA estimates that many pumping systems could be optimized to save up to 40% of their current energy usage. Of this figure, 3% could be saved by selecting a higher efficiency pump, 4% could be saved by installing a more appropriately sized pump, 10% could be saved by better system design and 20% could be saved by improved system control.
Pipe Flow Expert can help engineers save large amounts of energy use and ensure an efficient pipe system design is produced, by allowing them to model and troubleshoot their piping layouts, and through an iterative process, allowing them to refine and adjust the system pumping requirements and pipe diameter sizes (which can have a large effect on the energy losses due to pipe friction).
Pipe Flow's Gardiner points out "Pipe Flow Expert 2010 has been designed with ease-of-use in mind. It provides an ideal solution for anyone who designs, builds, operates or maintains a pipe system. It allows the user to easily visualize the pipe system operating conditions, including the flow rates and pipe pressure drops, together with the energy losses through various components and sections of their pipe work."
Pipe Flow Expert 2010 has an intuitive user interface that is best-in-class and easy-to-use, with support for both 2D and Isometric 3D drawing. It has a robust calculation engine that uses the Darcy-Weisbach method (with friction factors calculated from the Colebrook-White equation), an integrated fluid database with common liquid and gas properties, a pipe database with common pipe materials and sizes, and a fittings database with common valves and tees.
The Pipe Flow Expert software supports both single user and network licensing, via software download, and is also available on USB Flash Drive, where it can be moved between machines via simple "Plug & Play". With users in over 75 countries worldwide, Pipe Flow Software are known for their intuitive easy-to-use interfaces, their reliable flow calculations, their unrivalled software support and their unbeatable value-for-money pricing.
Functionality in the new 2010 release of Pipe Flow Expert includes "Amazing PDF Reports" that allow pipe system documentation to be generated with just a few mouse clicks. Users can include their own logo on the report cover sheet, as well as being able to choose which data items to include in tabular output for fluids, pipes, nodes, and energy usage.
Pipe Flow Expert is used by engineers that need a powerful, straightforward tool, which they can rely on to calculate flow rates, size pumps, find pressure losses, and calculate energy losses in a pipe system.
A free trial is available now: Calculate flows and pressures in pipe systems with Pipe Flow Expert 2010.
A two page Summary Brochure for Pipe Flow Expert together with other documentation is available from http://www.pipeflow.co.uk.
About PipeFlow.co.uk – PipeFlow.co.uk is owned by Daxesoft Ltd, a UK registered company. It has used PipeFlow as a trading name for over 10 years. Pipe Flow designs and develops fluid flow and pressure drop calculations software that is used by engineers in over 75 countries worldwide. PipeFlow has over 1500 clients in a variety of industries including aerospace, chemical processing, education, food and beverage, general engineering, mining, petrochemical, pharmaceutical, power generation, water and wastewater processing.
For more information please email info(at)pipeflow(dot)co(dot)uk
# # #