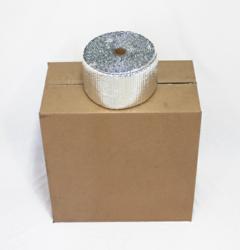 Indianapolis, Indiana (PRWEB) June 30, 2012
Insulation Stop has supplied radiant barrier and reflective foil insulation nationally for over ten years and the addition of new products to the HVAC contractor or savvy homeowner is a natural progression. The pipe wrap insulation is available in two configurations. Spiral pipe wrap insulation is offered in 2", 4", and 6" widths while linear pipe wrap insulation which consists of an adhesive strip and is offered in 6" widths only.
"Now, when the contractor or homeowner is in the basement, we can offer a complete insulation system. From under the slab to under the floor joists, we now offer products to complete any basement or crawlspace insulation product." stated Nick Semon, owner of Insulation Stop. "The insulator is already working where the water pipes are. Pipe wrap insulation is another project that contractors and homeowners can do to save energy. The R-Value has been tested at an R-4. Impressive considering how affordable the insulation sells for."
"We are excited to be offering the new insulation. We know how much money can be saved if you properly insulate buildings. In addition to insulating your duct work and hot water heater, pipe wrap insulation is a sure way to conserve energy. Imagine all the lost radiant heat that can be reflected back to hot water pipes over the course of your building's life. This is an application that pays for itself over and over."
For more information on radiant barrier and reflective foil insulation, please visit InsulationStop.com.
Nick Semon is co-owner of Insulation Stop. They offer individual and bulk orders of U.S. made radiant barrier and reflective bubble foil insulation products for commercial and residential use. The company is committed to offering extensive knowledge on the use and application of its reflective insulation products.