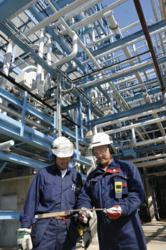 "Manufacturing is more than just putting parts together. It's coming up with ideas, testing principles and perfecting the engineering, as well as final assembly"
James Dyson
(PRWEB) May 23, 2013
Considering a huge demand in Engineering outsourcing like CAD services, IndiaCADworks has been successful in delivering projects as per clients' requirements over the last few years. IndiaCADworks now has re-launched its Piping Designing Services, providing specialized piping layouts, stress analysis tests, plot plan development, pipe routing, etc. to clients across the globe. The company has been working towards this opportunity over the past one year; however, its re-launch was accomplished in the second quarter of the fiscal year, May 2013 with state-of-the-art technology and advanced infrastructure.
The firm, based in Bangalore, is equipped to deliver projects of varying complexity and size within its committed timeline. An Engineering Sales Manager at IndiaCADworks quoted, "The availability and flexibility of resources to meet the market specific demands, industry based expertise and technology migrations demands of the global Oil and gas industry is key in maintaining consistent growth of the company." The firm today is equipped with a skilled workforce to develop and manage piping design projects conforming to ISO 9001:2008 standards. The company ensures it hires only certified Drafters and qualified and experienced Engineers to ensure the task assigned is delivered to globally acceptable standards
After gaining the confidence of global clients in delivering 2D drafting services, 3D animations, reverse engineering etc. the firm is now inching to set a new benchmark in piping design services. The organization promises to deliver 99.9% accurate results to clients by ensuring each project goes through series of quality evaluation process, which is later reviewed and assessed by Supervisors and Quality Managers for approval. Focused training and human resource allocation based on talent and experience enables IndiaCADworks to deliver quality and sustainable results ensuring every project goes through a meticulous assessment.
The firm also ensures safe operability by constantly evaluating the responses and stresses of piping systems using 3D CAD Modeling.
The growth in oil and gas consumption is expected to increase by 5% in the next ten years, the firm hopes to pocket a sizable portion of this business opportunity to deliver cost effective piping design solutions. IndiaCADworks is currently reporting a rapid increase in opportunities across the Middle East and Latin American countries. To meet these business needs, IndiaCADworks is investing in technology upgradation, software updates, onsite training and hiring of specialist Engineers from client locations and from the Oil and Gas industry.
Every time a new opportunity has presented itself IndiaCADworks has ensured it meets the challenge and provides solutions that's economical and acceptable globally. Across FEA services, Reverse Engineering, 3D product animation, 2D drafting and Design, IndiaCADworks has endured to support and refresh customer opinions on outsourcing key portions of their work. Now as IndiaCADworks stands on the threshold of another opportunity, the mood in the company seems to be one of confidence and poise. All ready to grow and be counted as a premier provider of Piping Design Engineering Services globally.
For more information visit official website: http://indiacadworks.com/