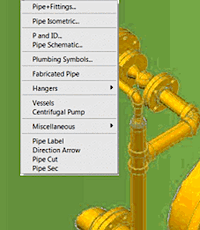 We are certainly excited about our new AViCAD Piping software. This idea has been in our project scope for quite some time.
Bend, OR (PRWEB) May 30, 2013
CADavenue announced today that a new piping program will be available by mid- summer 2013. The low cost AutoCAD® alternative called AViCAD Piping is being designed for both small piping contractors and large fabrication shops. The software will also be combined with a stand-alone CAD program, CADavenue explained.
The Piping Software is expected to be released by July 1, 2013 and will run within a self-contained application called AViCAD. The program will feature both 2D and 3D piping along with a BOM (Bill of Materials) option to tabulate how many fittings and different pipe lengths are inside the drawing.
Victor Abela remarks "We are certainly very excited about our new upcoming AViCAD Piping software. This idea has been in our project scope for quite some time. With the recent release of our complete engineering package AViCAD Professional 2013 we felt the timing was just right. "
The software includes orthogonal pipe, fittings and valves. Also includes is 2-D (Single, Double Line, Isometric and P&ID) plus 3-D (Solids).
Other piping features will include:

A complete CAD application
Comprehensive range of pipe, fittings and valves
Vessels, Pipe Hangers and Pumps
Various sizes and specs including DIN, ISO & ANSI
Automatic BOM (Bill of Materials)
Insulation, customizable layers
Several draw options in 2D and 3D
In addition the Piping Software includes AViCAD, which is a full CAD program containing AutoCAD®-Like commands and saves to a DWG file type by default. Within AViCAD there is also a 3D modeling engine to create renderings. For more info please visit the product info page.
About CADavenue.com
CADAvenue is a provider of affordable mechanical and engineering software for CAD. Many of CADavenue's products offer a 30 day trial before purchasing.
CADavenue is located in Bend, Oregon and is open for tech support and sales questions between 8-5 M-F PST at 888-271-7121 or by emailing info (at) cadavenue (domcom).