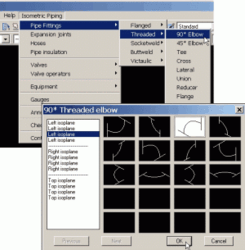 These piping symbols will save hundreds of hours of drawing time within a very short time. Many users tell us how impressed they are with the quality of the symbols and their ease of use.
Bend, OR (PRWEB) September 27, 2012
SimpleCAD announced today it will be adding 4 new updates to its 2D and 3D Pipe Library for CAD users using AutoCAD®, LT or IntelliCAD.
The new Piping Symbols collection is now compatible with new versions of AutoCAD® 2013, AutoCAD® LT 2013 and earlier. The company also reports that each year the software is checked for drawing compatibly updated with the latest CAD release.
"We are now offering four different piping flavors customers can easily pick and choose from. We find many users often order one after the other and tell us how impressed they are with the quality of the symbols and overall ease of use," says SimpleCAD Director, Erik Z.
Pipe fittings are inserted into a drawing at an absolute scale. As they are inputted into the drawing, the drafter can also rotate the symbol before final placement. Once the piping symbol is placed in the drawing the symbol, its current layer settings will be inherited.
Symbol Libraries Are Now Offered In 4 Separate Bundles:

2D Piping (includes 10,000+ drawings)
3D Piping (includes 4,600+ drawings)
P&ID (includes 220+ drawings)
Isometric Piping (includes 800+ drawings)
Certain piping symbol collections are also be available for IntelliCAD and even AutoCAD® Mac users. Each Bundle or Library is he symbols organized into distinct sub categories according to fitting type and pipe size.
Erik continues, "Online shoppers often tell us that they like to pick and choose between 2D, 3D, ISO and P&ID depending on their specific needs rather than buying too much. These library offerings provide the perfect fit for them."
SimpleCAD also offers a free remote installation of the library if needed and free download trials are also offered.
Both libraries combined contains 15,620 piping symbols for generating piping plans, sections and elevations. SimpleCAD claims these piping symbols will save CAD users hours of work within a very short time.
A demo is available at SimpleCAD.com by calling 877-933-3929
About SimpleCAD:
Since 1983 SimpleCAD been actively serving the CAD industry. Since this time they have offer various CAD solutions and symbol libraries for various industries. Samples of their software and block libraries are always available upon request.