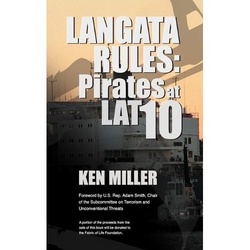 Langata Rules: Pirates at Lat 10
New York (Vocus) March 2, 2010
Ken Miller's debut novel, "Langata Rules: Pirates at Lat 10," reads like today's news, detailing the political, business and intelligence impact of a pirate raid off the coast of Somalia. The story 'unspools at breakneck speed,' wrote critic Barbara McMichael.
Now RedBear Entertainment has optioned the screen rights to Langata Rules, with co-founders Jason Riley and Lindsay Macadam producing.
When pirates seize weapons bound for a rebel army, they spark a race among the rebels, the shipping firm, a local warlord and the United States, climaxing in the pirate port. "This is a great book to film!" said RedBear's Macadam "It's fast paced action with an intelligent plot." For additional information on Macadam, visit http://www.imdb.com/name/nm2054603. [The Internet Movie Database]
In his foreword to the book, Congressman Adam Smith, chair of the House Armed Services Subcommittee on Terrorism and Unconventional Threats, links piracy, terrorism and failed states - and makes the case for vigorous intervention, if only in our own self-interest. More than 80 nations are considered "failed," contributing to more than 400 acts of piracy last year.
But despite its thriller category, the book isn't all guns and steel. Several moving passages depict the conditions that give rise to piracy, from the grinding poverty of swarming cities to hardscrabble village life. The author is sharing his royalties with Fabric of Life, an NGO that funds micro-enterprise and cooperative development for young women and girls in Africa and other parts of the Third World. For additional information, visit Fabric of Life.
About the author: Ken Miller has seen first-hand the intersection of government power and private interest. He served as public affairs planning director for a Fortune 100 multi-national, and has worked in national and local politics for over 30 years. Former national chair of the American Leadership Forum, Ken has spoken on corporate reputation and social responsibility at conferences in Europe and North America. The second book in his Drew Alexander series, set in New Orleans and driven by cocaine and electric cars, is due fall, 2010.
About RedBear Entertainment: RedBear Entertainment Inc. develops, packages, finances, and produces feature length theatrical motion pictures and television programs. The company was founded in 2009 and is based in Vancouver, BC.
PUBLICITY CONTACT: To schedule an interview or for more information, contact Sarah Wilson, Sarah Wilson Business Communications sarah(at)swbcommunications(dot)com 518.637.4326.
###