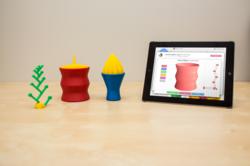 We want to build a great experience for the non-technical users and it must provide a seamless experience from digital creation to the final physical object - Tsang You Jun, Co-Founder Pirate3D
Palo Alto, CA (PRWEB) June 17, 2013
Current 3D printers fabricate objects from computer aided design (CAD) files. These files require specialized technical knowledge to produce or even modify, as CAD software has a significant learning curve to master.
Recognizing these urgent needs of non-technical consumers, 3D software companies have started to develop more intuitive software apps for such consumers. Although there has been some progress in this area by CAD software vendors, all current developments seem to be very much isolated from one another, which inconveniences the consumer. Furthermore, depending on just a single company to develop these apps has resulted in limited choices and fragmentation of the user experience.
"We want to build a great experience for non-technical users," said Tsang You Jun, Pirate3D's chief of design and user experience, "and it must provide a seamless experience from digital creation to the final physical object. Going Beyond that, we will provide an SDK for App Developers - we empower the masses to support the masses. This will unleash the vast energies of creativity in the world."
Pirate3D intends to accomplish this user-centric approach by making 3D object generation easier for the casual user. "We realized that people would not adopt 3D printing technology as long as they can't easily create the objects digitally," says Kai Elvin, Pirate3D's Guru of Application Development. "As such, we designed our Smart Objects application to make 3D object generation as intuitive as possible. Users simply use their fingers to design the 3D objects."
Instead of designing 3D objects with complicated CAD software, Pirate3D's Smart Objects application allows users to simply click and drag points on a stock object to modify its shape. Other customizations are possible by moving a slider or pressing a button to change the attributes of an object.
The possibilities are endless, as Pirate3D's demonstration app allows one to produce an assortment of objects such as cups, wine glasses, and mushrooms for 3D printing. After creating an object, users are able to export it as 3D model file or share the link to the object with their friends. Such files will also be saved in the Cloud-based architecture for direct printing by the Buccaneer 3D printer.
Pirate3D plans to release the software developer kit (SDK) for their Smart Objects engine to allow other savvy users to build their own Smart Object Apps. The Smart Objects engine is being developed for multiple platforms; a web browser and Android version are in beta testing.
Today with more than 5,000 objects created on their demo app, they seem to be moving in the right direction to meet the needs of easy 3D object creation.
Pirate3D's demonstration app can be accessed at http://pirate3d.com/demo. Developers interested in working with the SDK can contact Pirate3D at contact(at)pirate3d(dot)com.