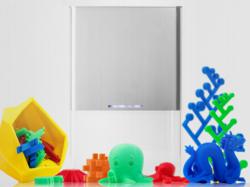 A very limited number of these 3D printers will be given away at $247, a reward for those who back the Buccaneer® campaign early.
Palo Alto, California (PRWEB) May 27, 2013
Pirate3D has announced that they will be launching pre-orders for their Buccaneer® 3D printer on Kickstarter. The crowd-funding website is a trusted platform for innovative and creative projects, and is a popular launchpad for 3D printing technologies.
"It's a recognition and an honor for Pirate3D to be on Kickstarter, the world's leading crowd-funding platform," says Brendan Goh, Pirate3D's Chief of Operations. "We were subjected to a rigorous vetting process and had to fulfill strict requirements on design, technology, operations and production."
"The Buccaneer® is designed for mass adoption and it corresponds with Kickstarter's global reach to great project backers," says Titan Lee, Pirate3D's resident growth hacker. "To achieve the most affordable 3D printer in the world for the masses, we need to generate massive public awareness, and the global support to bring Buccaneer® to every household, and achieve the democratization of innovation and creativity for everyone."
The Buccaneer® 3D printer has a list price of $347, and at half the price of an iPad, makes it the most affordable consumer 3D printer. With the ability to communicate wirelessly with mobile devices, The Buccaneer® works in tandem with a cloud system to create a delightful and intuitive 3D printing experience.
Pirate3D is offering on Kickstarter sets of The Buccaneer® 3D printers bundled with patent-pending central-feed material spools. The devices are meant to function right out of the box with minimal set-up effort.
A very limited number of these 3D printers will be given away at $247, a reward for those who back the Buccaneer® campaign early. Another limited number of 3D printers are available for early delivery date of December 2013. Other rewards available include limited editions Pirate3D t-shirts and bumper stickers to thank backers for their support.
Alongside their announcement, Pirate3D has also released a video showing the internal mechanisms of the Buccaneer® at work. The video details the intricate movements of the device's motors as an octopus is produced on the print platform.
"We have received tremendous support and requests for early Kickstarter campaign, and we kept our promise to launch in May," says Roger Chang, Pirate3D's CEO. "Thank you to all our supporters for their encouragement and we look forward to a partnership that creates an ecosystem of innovation, creativity and entrepreneurship for everyone."
The Pirate3D's Buccaneer® campaign will be launched on the May 30, 2013 at 9 a.m. PDT. Their Kickstarter page can be accessed via http://pirate3d.com/kickstarter.
Interested parties are encouraged to sign up on Kickstarter prior to the Pirate3D Kickstarter Launch to enjoy the limited sets of The Buccaneer® at $247.