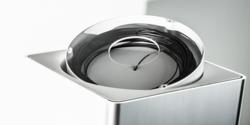 It's incredibly awesome that we managed to raise more than 1400% of our initial goal - Roger Chang, CEO & Founder Pirate3D
Palo Alto, California (PRWEB) June 30, 2013
In 30 days, Pirate3D has managed to raise $1,438,765 in pledges from backers on the crowdfunding platform Kickstarter. This makes their Buccaneer® the most successful fused filament fabrication (FFF) 3D printer on the crowdfunding site.
"It's incredibly awesome that we managed to raise more than 1400% of our initial goal," says Roger Chang, Pirate3D's Chief Executive Pirate. "We can now include a lot of the developments we considered but didn't have the resources to implement."
Amongst these developments include support for ABS material, an all metal hotend, and a transparent glass heated bed. These developments allow the Buccaneer® to run more reliably and provide a better overall user experience. Pirate3D is also working on an electronic z-height calibration system, but does not promise that it will be in the final build.
Chief of Design, Tsang You Jun, has this to add: "The transparent heated bed adds greatly to the aesthetics of the Buccaneer. By maintaining transparency for the lower section of the Buccaneer, we create this visual effect of a floating device. We took awhile to develop this as we had to ensure that the industrial processes to produce the heated bed were feasible. Moreover, it ensures even heat spread for a great 3d print."
Pirate3D has slated delivery of its full production units in February 2014. A couple hundred pre-production units will be released to backers in December 2013 for an open public test.
"Our next step is to get everything built and shipped to our backers in time," remarks Pirate3D's Chief of Operations, Brendan Goh. "We've had to revamp the Buccaneer's design a little to accommodate the new developments. Nonetheless, manufacturing is proceeding as planned."
In one of their updates on Kickstarter, Pirate3D mentioned that they will be considering distribution of their Buccaneer® 3D printers through retail channels. However, doing so would increase the final retail price of the Buccaneer® 3D printers as there is a need to maintain distributors' margins.
"Ultimately, our focus is on our vision of putting a 3D printer into every home," says Pirate3D chairman Prof. Neo Kok Beng. "Our backers are not just supporting the Buccaneer®, they also belong to the special community that brings the power of 3d printing to the world."
Pirate3D's charitable initiatives include (i) collaboration with Harvard's Professor Calestous Juma for 3D printers donation and training for selected African institutions, (ii) donations of 3D printers to selected public libraries to foster creativity, and (iii) development of MOOC (Massive Open Online Course) to empower the public with the power of 3d printing and truly democratize innovation for the world.
About Pirate3D
Pirate3D is an innovative company focusing on the democratization of innovation, creativity and entrepreneurship using 3D printing technologies. Their first 3D printer, the Buccaneer®, is based on Fused Filament Fabrication (FFF) technique using PLA(polylatic acid) and ABS materials. Aesthetically pleasing and ergonomically designed, the Buccaneer® appeals to the mass consumer for its great user experience and can be used by kids, youngs and the seniors. Using SmartObjects platform for 3D Apps, users would be able to create 3D objects of desire and intuitively using smartphones and webpads, without learning the traditional CAD software. They are also able to share and store their designs on the cloud-based Pirate Distribution Network. Pirate3D is a socially responsible company that contributes to society via its awareness, education and entrepreneurship programs. Pirate3d is incubated by the Institution of Engineers, Singapore(IES) and Red Dot Ventures.