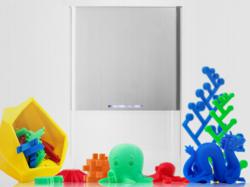 We will start by donating 10 units of the Buccaneer® 3D printers to public libraries interested in promoting 3D printing technologies to their community - Roger Chang, Co-Founder Pirate3D
Palo Alto, California (PRWEB) June 10, 2013
Pirate3D, Inc is pleased to announce that it will be donating its consumer-focused, user-friendly Buccaneer® 3D printers to selected public libraries that want to promote the public awareness 3D printing technologies (also known as additive manufacturing).
In line with its stated vision of "democratizing innovation, fostering creativity, and facilitating entrepreneurship", it will also develop MOOCs (Massive Open Online Course) to provide youths and the public education on 3D technologies, 3D design and 3D applications development.
"MOOCs is the latest tool for us to reach out to the masses searching for the opportunities to prepare themselves for the coming industrial revolution [1] as mentioned by the Economist magazine," said Prof. Neo Kok Beng, co-founder of Pirate3D and adjunct associate professor of the National University of Singapore and Academic Committee. Prof. Neo is also a member of the Singapore-Stanford Biodesign Program, and an Associate of the Science, Technology & Globalization Project at Harvard Kennedy School. "We welcome academic and private education institutions to partner with us."
On Feb 13, 2012, President Obama proposed a $8 billion Community College to Career Fund[2] to create an economy built to last by training two million workers with skills for good-paying jobs in high-growth and high-demand industries, including advanced manufacturing.
"We will start by donating 10 units of the Buccaneer® 3D printers to public libraries interested in promoting 3D printing technologies to their community," said Roger Chang, co-founder & CEO of Pirate3D. "We will give out more Buccaneers® as we grow our company. We welcome the public and well wishers to participate too."
The Buccaneer® is currently available for pre-orders via their Kickstarter campaign.
[1] "The Third Industrial Revolution", Economist, Apr 21, 2012 [2 Fact Sheet: White House Initiative for Advanced Manufacturing Initiatives to Drive Innovation
http://www.whitehouse.gov/the-press-office/2012/07/17/fact-sheet-white-house-advanced-manufacturing-initiatives-drive-innovati
About Pirate3D
Pirate3D is an innovative company focusing on the democratization of innovation, creativity and entrepreneurship using 3D printing technologies. The 1st 3d printer, the Buccaneer ®, is base on Fused Filament Fabrication (FFF) technique using PLA(polylatic acid) material. Aesthetically pleasing and ergonomically designed, the Buccaneer® appeals to the mass consumer for its great user experience and can be used by kids, youngs and the seniors. Using SmartObjects platform for 3D Apps, users would be able to create 3D objects of desire and intuitively using smartphones and webpads, without learning the traditional CAD software. They are also able to share and store their designs on the cloud-based Pirate Distribution Network. Pirate3D is a socially responsible company that contributes to society via its awareness, education and entrepreneurship programs. Pirate 3D is incubated by the Institution of Engineers (IES) and Red Dot Ventures.