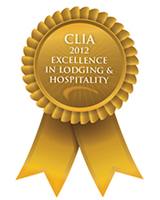 Time and time again, our guests tell us they particularly enjoy the SeaCrest's fun, California casual atmosphere and ambiance.
Pismo Beach, CA (PRWEB) October 15, 2012
On September 25, 2012 the SeaCrest OceanFront Hotel in Pismo Beach, CA was awarded the 2012 Award for Excellence in Lodging and Hospitality by the California Lodging Industry Association (CLIA) at the association's annual California Lodging Expo and Conference. Organized by CLIA in conjunction with the American Hotel Register, the one-day event brought together many of the state's independent lodging owners and operators and connected them to valuable resources and seminars.
With several hundred travel industry professionals in attendance at the event, which took place at the LAX Hacienda Hotel, the SeaCrest OceanFront Hotel's ownership, represented by Core Capital's Manish Bhakta and Downtown Properties' Colleen Jimenez, was presented the Excellence Award in recognition of the hotel's exceptional sales and marketing results. Bhakta stated, "This award is especially meaningful as we celebrate the SeaCrest's 50 years of creating memorable moments for our guests. Congratulations to all who contributed so much to our success."
In keeping with the California Lodging Industry Association's desire to "honor its own," the "Excellence in Lodging & Hospitality" Awards are presented annually to recognize the best in lodging management, operations, and hospitality services within the CLIA membership.
The SeaCrest Hotel's sales and marketing efforts included direct mail, advertising, direct sales, special promotions, on-property collateral materials, social media, web advertising, blogging, and many other elements. The campaign was an integral part of a multi-year and multi-million dollar update program that restored the SeaCrest to its status as the iconic Pismo Beach oceanfront hotel. A portfolio of the winning work can be viewed on the SeaCrest hotel Facebook page at https://www.facebook.com/SeaCrestPismo/app_498870343464889.
"Time and time again, our guests tell us they particularly enjoy the SeaCrest's fun, California casual atmosphere and ambiance. Our team was able to coordinate its marketing efforts with guest programs and our property 'vibe' in a way that reflected that brand image and reinforced it in the minds of existing and potential guests", remarks Jamie Wallace, General Manager of SeaCrest OceanFront Hotel. He continues, "It's an honor to have this authentic approach recognized and awarded by our industry association."
Myraline Morris Whitaker, Principal of the hotel management company, Central Coast of California Hospitality, which oversees the SeaCrest operations, states, "This prestigious award reflects what an independent California hotel can achieve when it's headed by ownership with both the vision and determination to offer a superior lodging experience to its guests;and when an entire sales and marketing team commits itself to creating and executing an equally superior campaign."
Whitaker and the internal marketing team hired outside marketing firm, Spark Inbound Marketing, to help implement the marketing campaign.
To learn more about SeaCrest OceanFront Hotel visit http://www.seacrestpismo.com.