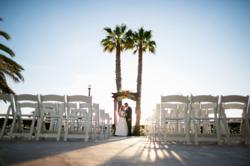 "We welcome all brides and grooms, husbands, wives and families by providing an exciting, relaxing, and memorable stay in Pismo Beach.
Pismo Beach, CA (PRWEB) February 27, 2013
The SeaCrest OceanFront Hotel in Pismo Beach concluded its year- long "Celebrating 50 years" festivities by hosting a wedding vow renewal ceremony last Saturday, February 16, 2013. Two special couples said "I do" once more to honor their unions during this unique event.
Brenda and Vince Kelly of Santa Maria, CA tied the knot 47 years ago while Kathy and Larry Riggs first joined hands in matrimony 31 years ago. Each of these lovely forever young couples celebrated their original honeymoon night at the SeaCrest. When the Kellys first married, the hotel had no designated "honeymoon suite," but their room was certainly a special place that night. By the time the Riggs arrived years later, the honeymoon suite was decked out in red carpeting with a red heart-shaped bed. Times certainly have changed.Now both couples were able to celebrate their vow renewals Saturday night in a SeaCrest Signature Deluxe room, featuring a plush king-top bed, relaxing sitting area, and private balcony.
Vince Kelly first came to the Central Coast as an Air Force man stationed at Vandenberg Air Force Base. Brenda and Vince are now long time Central Coast residents, Vince being a prominent local building painter. The first time around, the Kelly's wedding photographer took sick at the last minute, so the photos of Saturday's ceremony now comprise their official wedding album. Link to Photos; Brenda and Vince Kelly.
Larry Riggs is a veteran firefighter with over 30 years of dedicated service to his community. This time around, Kathy had the honor of being escorted down the aisle by their grandson. Link to photos; Larry and Kathy Riggs.
During the past 50 years of this iconic hotel's continuous operation, over 4,250 happy honeymooners have chosen the SeaCrest to begin their married lives on the stunning Pismo Bluffs overlooking the Pacific Ocean.The entire SeaCrest management and staff congratulate these two wonderful couples on their long, happy marriages.
Andy Morris officiated at the grand ceremonies, accompanying music was provided by Nathan Town, flowers arranged by Sprigs, and Harrison-Douglas Photography captured each ceremony on film for the honored couples.
"The SeaCrest has provided 50 years of precious wedding ceremony and honeymoon memories to couples from around the world. Our heartiest congratulations to the Kelly and Riggs families." said Jamie Wallace, SeaCrest OceanFront Hotel's General Manager. "We welcome all brides and grooms, husbands, wives and families by providing an exciting, relaxing, and memorable stay in Pismo Beach."
Learn more about the SeaCrest OceanFront Hotel, visit http://www.seacrestpismo.com.