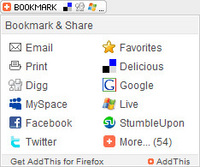 When people aren't happy with a company, that information spreads via word of mouth as they tell their friends, families, neighbors, and co-workers about their experiences
New York, NY (Vocus) August 31, 2009
U.S. consumer advocacy and customer complaints website, PissedConsumer.com, recently took comments on consumer complaints to Twitter and now they're helping consumers share the site's original customer complaints with others through social bookmarking service AddThis.
"When people aren't happy with a company, that information spreads via word of mouth as they tell their friends, families, neighbors, and co-workers about their experiences," says Joanna Simpson of Pissed Consumer. "We believe it should work the same way through consumer complaints websites, where information is accessible to even more people, including those specifically looking to conduct consumer research. That's what AddThis does for us. It allows our visitors to more easily spread the word about their customer service and consumer experiences, but with a bigger collective voice."
To use the AddThis social bookmarking tool on any consumer complaint detail page, visitors just need to mouse-over the "bookmark" button towards the top right of the post. A list of options will appear enabling them to email the link to their contacts, print it for later, or help it spread virally online through social media sites such as Digg, Delicious, StumbleUpon, Facebook, and Twitter. With 54 social bookmarking options available, visitors are sure to find a service they already use (meaning they don't have to sign up for new social bookmarking accounts to spread the word about consumer complaints they want to share).
"Consumers could always share the customer complaints on our site through these social media services," says Simpson. "But now we've made it faster and easier to do. Visitors used to have to manually visit each social bookmarking site they wanted to use in order to share the link to a consumer complaint. Now they can access them all from a simple drop-down menu. It might appear to be a minor addition to the site, but it gives major power to visitors who want their voices to be heard."
About PissedConsumer.com
PissedConsumer.com is a premier consumer advocacy group, featuring consumer reports and complaints in a social networking environment. The company uses online tools to publicize reviews and complaints filed by consumers on the Internet. In addition, the site offers a set of free tools necessary to bring the dispute to a fast and successful resolution, including a consumer complaint letter generator and collection of consumer tips and advice in the site's consumer advocacy section.
For more information about PissedConsumer.com, please visit PissedConsumer.com or contact Joanna Simpson at 262-674-6466.
###