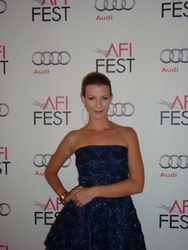 Throughout my career, I generated over half a billion dollars in incremental business because of my results and client approach.
Los Angeles, CA. (Vocus) November 17, 2010
The stars are aligned (literally) for Pitcher Public Relations (Pitcher PR). The new agency has tripled in size since opening its doors, proving that with the right ingredients and business model, growth is evident. Founder and Head of Publicity, Kristin Pitcher, believes that the key to their success stemmed from a solid 12-year understanding of the evolving entertainment landscape, coupled with creative genius and relationship nourishment. In an industry where who you know is more important than what you know, Pitcher PR thrives off having both an overflowing rolodex of solid relationships with key players and the experience and knowledge to back it all up. Pitcher PR's recipe for greatness and often unconventional approach to each client is their ability to DRIVE the publicity strategy in order to impact the consumer, EXPOSE them through strategic and sustainable campaigns and ultimately CONNECT them with the public.
"It was a dream come true to work for machine's like Twentieth Century Fox, Lionsgate and DIRECTV, but I always knew that one day I would open a boutique agency, " said Pitcher. "Gaining the experience from these incredible companies and being a sponge to the complex industry was all a part of the bigger picture and ultimately led me to where I am today."
Pitcher PR is showing no signs of constricting in this economy and has an emergent client list to prove it. The company caters to fresh faces on the rise, as well as industry veterans and company brands. Britain's newest "It" girl, Jaala Pickering, is the latest celebrity talent to sign with Pitcher PR just days ago. The actress landed a lead role in the highly anticipated film, Dam999. Scheduled to release in May 2011, Dam999 is said to be the next milestone from India following the Oscar Winning film, Slumdog Millionaire. "After being highly recommended by industry professionals and meeting with other agencies, I knew Pitcher PR was the right fit to enhance my profile," Pickering stated.
The future looks bright for both Jaala Pickering and Pitcher PR. The boutique powerhouse does not appear to be losing any momentum as they continuously sign on new clients such as Pickering. "It is always a risk to leave companies that experience minimal financial loss during an economic crunch," said Pitcher. "However, throughout my career, I generated over half a billion dollars in incremental business because of my results and client approach."
Pitcher knew early on that the best way to provide clients with more personal dedication and an amplified level of service was to create an agency that is boutique in size but 'bar-raising' in effective strategies that move the consumer. It is not her desire to go head-to-head with top 10 PR firms though they have all the same resources. Pitcher believes that while perception is of the utmost importance in this business, in order to properly manage the perception of each client they cannot be publicized identically. Each client is treated as a partner. It is her passion to ensure that each will flourish through quality and effective PR campaigns.
For more information on Pitcher PR visit: http://www.pitcherpr.com
For more information on Dam999 visit: http://www.damthemovie.com
About Pitcher Public Relations:
Pitcher Public Relations (Pitcher PR) is a full-service public relations and marketing powerhouse that specializes in enhancing talent and brand relationships through a deep understanding of the evolving entertainment landscape. Pitcher PR addresses the changing needs of the entertainment industry and provides unmatched expertise and insight for clients seeking to use entertainment and pop culture to connect with consumers. Pitcher PR demonstrates superior knowledge of, and a hands-on commitment to, excellence in public relations and marketing for its clients. For more information visit: http://www.pitcherpr.com. Stalk us on Facebook at http://www.facebook.com/KPPRonFB and Twitter at http://www.twitter.com/PitcherPR
About Jaala Pickering:
The 27-year old British beauty is quickly making her mark in Hollywood. Prior to her acting career, Pickering began as an International fashion model and television host. While Pickering is no stranger to being sought after by top photographers around the world, most recently renowned directors can't help but notice the "It" Brit. In April 2011, she will make her film debut (as a lead) in the highly anticipated, Dam999. She credits her innate talent and ease on camera to her acting and film production education from Salford University in Manchester, England. For more information on Jaala Pickering visit: http://www.jaalapickering.com
For more information on or to schedule an interview with Pitcher PR or Jaala Pickering please contact:
Kristin Pitcher
Kristin(at)pitcherpr(dot)com
310.494.6914
###