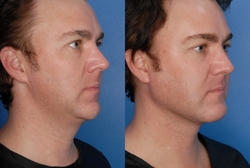 A larger jaw line will age better than a weaker jaw. This is why I say that beauty is bone deep.
Boca Raton, FL (PRWEB) April 20, 2010
There's a well-known phrase, "beauty is only skin deep," that reflects a belief that superficial matters such as beauty pale in comparison with deeper values such as integrity, loyalty and strength. When taken literally, however, Boca Raton plastic surgeon Dr. Oscar Ramirez takes issue. In his belief system, based on many years of facial plastic surgery training and practice, beauty is not skin deep--it's bone deep. This is bolstered by a recent study performed at the University of Rochester that confirms the disintegration of facial bone as a result of normal aging.
The University of Rochester study, recently reviewed by the American Society of Plastic Surgeons, reveals that, as our height shrinks, so do our facial features. Ramirez, one of the world's foremost creators of facial implants, knew this long ago. "Beauty is bone deep because the facial bones determine the ultimate appearance of the face, whether it's pleasing or not," states Ramirez, whose South Florida plastic surgery practice sees thousands of men and women each year who are seeking facial rejuvenation. "The face is divided roughly into thirds, with the eyes and forehead occupying the top third, the cheeks and nose in the middle and the mouth and jaw line in the bottom third. When any of those sections are out of balance with the other two, the facial appearance is not as preferred, according to our anthropological and biological insights."
The news is that Dr. Ramirez has created specific facial implants to treat patients who desire a more balanced facial appearance. One, called the mandibular matrix system, creates a bigger jaw. Inserted just under the chin through an approximately 1" incision, the mandibular matrix system is made of special porous plastic, and invented by Dr. Ramirez. "Not everyone wants to look like Brad Pitt or Emily Dechanel of the Bones TV show," says Ramirez, "but you have to admit that one of the most attractive things about those two actors is the shape of the jaw line. A larger jaw line will definitely age better than a weaker jaw. This is why I say that beauty is bone deep. The larger bone structured-individuals will appear younger, longer."
In addition to the mandibular matrix system, Dr. Ramirez has created other procedures and invented other facial implants to plump the face over the upper orbit, under the eyes, in the cheeks and around the chin in an area called the "prejowl."
About Sanctuary Plastic Surgery
Board-certified plastic surgeon, Dr. Oscar Ramirez, is part of a team of board-certified plastic surgeons led by Dr. Jason Pozner at Sanctuary Plastic Surgery in Boca Raton, FL. With its onsite accredited surgery facility and advanced technologies to ensure patient comfort, SPS has become one of the busiest and most respected plastic surgery practices in America. It's sister-facility, Sanctuary Medical Aesthetic Center is the hub of South Florida's commitment to revolutionary wellness and rejuvenation, with a physician-led team of specialists treating every area of the body with the latest in science-based beauty and age management techniques.
For more information on plastic surgery at Sanctuary Plastic Surgery: http://www.spsboca.com
For more information, press only: Kimberly Winkler, 561-367-9101, Kimberly(at)smacboca(dot)com
###