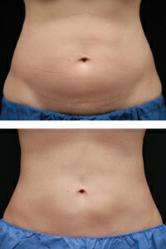 The ideal candidate for a CoolSculpting body contouring treatment is someone who is relatively fit, but who has pockets of fat around the flank and mid-section that are not responsive to diet and exercise.
Pittsburgh, PA (PRWEB) May 10, 2012
CoolSculpting® by ZELTIQ®, a new FDA-cleared, non-invasive and clinically proven fat reduction treatment, is now available to clients at The Skin Center Medical Spa in Pittsburgh, PA; one of the first medical spas in the region to offer this novel technology.
Developed by Harvard scientists, this unique, patented fat reduction treatment uses a targeted cooling technology called Cryolipolysis to eliminate fat cells underneath the skin. During a Pittsburgh CoolSculpting treatment, a non-invasive applicator gently cools and freezes targeted fat cells. Once frozen, the crystalized fat cells die and are naturally eliminated from the body. Skin tissue is left unaffected, and no needles or incisions are required.
Over time, the thickness of the fat layer is reduced, resulting in noticeable and long-lasting fat reduction. The average CoolSculpting body contouring patient may see results within three weeks of the fat removal treatment. The most dramatic results typically occur over a period of two to four months.
During the first few minutes of the Pittsburgh CoolSculpting treatment, patients will experience pressure and a mild cooling sensation as the targeted area is drawn up between the cooling panels. This feeling dissipates, and people often read or relax until the procedure is finished. Typical application time for this body contouring treatment for the average person is one to three hours.
While highly effective, CoolSculpting body contouring in Pittsburgh, PA is not a weight loss solution for people who are obese nor is it an alternative for people who are cadidates liposuction surgery or SmartLipo laser liposuction.
"The ideal candidate for this procedure is someone that is relatively fit, but who has pockets of fat around the flank and mid-section that are not responsive to diet and exercise," says Dominic Brandy, MD, board-certified cosmetic surgeon and founder and medical director of The Skin Center Medical Spa.
After the CoolSculpting body contouring treatment, most people return to normal activities. Some individuals will experience temporary redness, minor bruising, tingling or numbness in the treated areas.
For more information on Pittsburgh CoolSculpting body contouring and fat reduction treatments, or to make an appointment, contact The Skin Center at 1.800.429.1151 or visit our website at http://www.skincentermd.com.
About The Skin Center Medical Spa
The Skin Center Medical Spa, with three locations in Pittsburgh, Pennsylvania, and Columbus, Ohio, is the region's premier, full-service medical spa offering the latest advancements in non-invasive and minimally invasive skin rejuvenation for the treatment of aging skin, hyper-pigmentation, rosacea, unwanted hair, varicose and spider veins, active acne and acne scarring. Established by board-certified cosmetic surgeon Dominic Brandy, MD, in 1981, The Skin Center is one of the few medical facilities in Western Pennsylvania specializing exclusively in cosmetic plastic surgery and anti-aging treatments. Dr. Brandy and his colleague Fernando Colon, MD, board-certified plastic surgeon and medical director of The Skin Center in Columbus Ohio, have a combined 50 years of experience in cosmetic plastic surgery, and together they have performed nearly 20,000 procedures. The Skin Center's surgical facilities are accredited by the AAAHC.