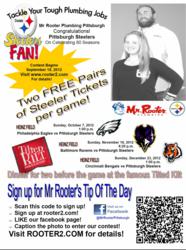 The toughest part of replacing a kitchen faucet is removing the old one.
Pittsburgh, Pennsylvania (PRWEB) September 13, 2012
Win Free Steeler Tickets @Facebook!
Mr Rooter Plumbing will be at the Monroeville Convention Center Thursday, September 13….see details here!
"The toughest part of replacing a kitchen faucet is removing the old one," says Bob Beall, president of Mr. Rooter Plumbing in Northeast Ohio and Southwest Pennsylvania. According to Pittsburgh's most referred plumber, "unexpected problems always pop up—corroded pipes, difficult-to-reach nuts and poor access to fittings." Otherwise, Beall says, "installing a new kitchen faucet isn't tough at all. Actually, the directions that come with the new faucet are probably all that will be needed to do that part of the job. Barring unforeseen problems, it's possible to be washing up under the faucet in an hour or so."
Mr. Rooter's Tip Of The Day
Tip # 1 – Make sure to have everything needed prior to beginning the project. Even having a helper to assist in case is a good idea.
Tip # 2 – Prior to disconnecting the drains and pipes, it might be a good idea to take an instant snapshot or make a sketch to know how to hook everything back up.
Tip # 3 – Make sure to be comfortable at the edge of the cabinet before getting started. The added insult of misery for the next two hours if something is pinching or hindering the job isn't necessary.
Tip # 4 – Replacing the faucet while the local hardware store is open is a good idea in case any parts are needed.
Tip # 5 – Make sure to have a bucket or pail nearby to catch any water from the pipes once everything is unhooked.
Tip # 6 – Don't completely disconnect the water supply lines except when the job entails replacing the lines as well. Disconnect them from the faucet only.
Tip # 7 – Having a solution of 50 % vinegar and 50% water handy for cleaning off any buildup from the old sink is a good idea. Be sure to have a scrub pad handy as well.
Tip # 8 – After your new faucet has been installed, it's a good idea to flush out any debris that may have accumulated in the lines.
Tip # 9 – If you're replacing a sink for the very first time, you might have a lot less difficulty if you follow the manufacturer's instructions step-by-step instead of trying to guess. It will save on time and frustration.
Tip# 10 – Don't forget to turn off either the water supply to the sink or the main water supply. Otherwise you'll end up becoming soaked.
"Whatever the reason, when replacing a kitchen faucet and have chosen to complete the project alone, there is no reason to feel overwhelmed, as with patience and care, the project can go very smoothly. By following the tips above, replacing a kitchen faucet is a breeze, says Bob Beall, Mr. Rooter!
There's A Reason They Call Us Mr.™
Debra Santavicca PR, SMM, WebIT
Mr. Rooter Media Center
http://www.rooter.com