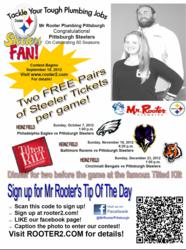 Mr. Rooter provides this Plumbing Check-Up with the intent to expose all possible plumbing problems, and if your service professional does find something that needs to be addressed, they will fix it at a discounted rate. There's a reason they call us Mr.®
Pittsburgh, PA (PRWEB) September 25, 2012
Threaded pipe is an all metal pipe, according to Pittsburgh plumber, Bob Beall, (galvanized or brass) used to connect water lines to fixtures and appliances. "Fittings for both materials come in a multitude of angles, as well in short straight sections called nipples," says Mr Rooter. Serving 2.9 million consumers, Mr Rooter Plumbing Pittsburgh and Youngstown, is the most referred plumber in the region.
"Fittings have threads on the inside (female threads) and nipples and full-length pipe have threads on the outside (male threads)," says Beall. Connecting a fitting to a pipe is accomplished by screwing thee threads together.
Mr Rooter Tip Of The Day
Tip #1 Use pipe wrenches to tighten the connection–one wrench holding the pipe and the other turning the fitting (or vice versa).
Tip #2 Splicing galvanized pipe requires working with threaded ends, even though a fitting called a dresser or compression coupling (a metal fitting with rubber gaskets at both ends) is made to do just that. Avoid these fittings if at all possible because they tend to blow off the pipe no matter how much the end caps are tightened down.
Tip #3 When lubricating the threads, to keep them from rusting and seizing once assembled, coat the male threads with a thread lubricant pipe dope or Teflon tape. These coatings reduce friction, allow deeper seating of the pipe in the fitting, prevent leaks, and allow ease of unscrewing the joint more easily. Each has advantages and disadvantages.
Tip #4 Brush paste into the threads. It's messy, so bring a rag and wipe off any excess. Teflon tape must be wound in a clockwise direction (facing the pipe end), and even when wound correctly, it can tend to pull itself into a useless string.
Tip #5 Winding the tape in a counterclockwise direction will cause it to unwind off the threads as the fitting is being installed.
Pittsburgh Plumber Trade Secrets
Never use a nipple or fitting with rusted threads. Clean the rust off first. Otherwise, the rust will keep the threads from seating properly, causing the joint to leak.
The bigger the wrench, the easier it will be to tighten the fitting. (Remember this for future plumbing tasks).
Avoid screwing a metal pipe deep into a plastic bushing or fitting. Plastic cracks easily.
Always install Teflon tape in a clockwise direction. When you tighten, the tape will not unwind, but will secure itself because of the clockwise direction during tightening.
BONUS TIP TO ALWAYS REMEMBER: Righty-tighty, lefty-loosey. This is a standard rule of thumb, universally spoken and universally standard in all cases.
According to Beall, president of Mr Rooter Plumbing Pittsburgh Pennsylvania and Youngstown Ohio, plumbers have a secret weapon: the third hand. Many times, it will seem that the task at hand would be expertly executed by only an octopus. All master plumbers and specialized plumbing technicians employ devices to assist them during difficult situations. When tightening and loosening threaded pipe, it is often necessary to implement a "third hand". That is satisfied in the form of a pipe vise or a chain vise. These are worth their weight in gold when needed. A chain vise is lightweight and will have to be bolted onto something. A pipe vise is heavy and often can be used without being fastened down. Most spin 360 degrees and will tilt in any direction.
There's A Reason They Call Us Mr.™
Debra Santavicca PR, SMM, WebIT
Mr. Rooter Media Center
http://www.rooter.com
724-553-9510
Schedule an appointment for a FREE second opinion on your next plumbing job!