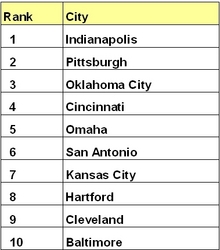 It's a scary time, but it's not scary everywhere. We wanted to show people the bright spots like Indianapolis, which has the best combination of low rents and housing prices, high incomes, and low unemployment
Pittsburgh, PA (PRWEB) October 14, 2009
Rentjungle.com has compiled a list of best cities for starting over after foreclosure. The survey measured such indicators as average rents and home values, median incomes and unemployment rates. Topping the list of the best places to get back on your feet are Indianapolis, Pittsburgh and Oklahoma City. All three boast high income ranks (24th, 33rd and 40th respectively) and inexpensive apartment rents (Indianapolis apartments had the 6th cheapest rents, Pittsburgh apartments ranked 12th and Oklahoma City ranked 4th). Rounding out the rest of the top 10 cities, in order, are Cincinnati, Omaha, San Antonio, Kansas City, Hartford, Cleveland and Baltimore. The worst cities for new beginnings were Los Angeles, Miami and New York. With this information in hand, Rentjungle.com hopes people can better decide if moving to a new city might be in order.
"It's a scary time, but it's not scary everywhere. We wanted to show people the bright spots like Indianapolis, which has the best combination of low rents and housing prices, high incomes, and low unemployment," says founder Rick Ferris.
In order to scour the million-plus rental ads on the Internet, Rentjungle.com employs innovate spidering technology that can detect both when new rentals come on the market and when rents for a particular property change. All of this data is analyzed and stored in order to keep users abreast of the latest happenings in the rental market. Trends can be tracked by city and by neighborhood, furthering the site's value to users. A rent calculator tool is also available to see how much users should be paying for rent. Lastly, users can see searches on an easy, interactive map that links to satellite street views.
"We offer everything renters need: articles, research, mapping tools. People are busy. We make renting easy for them through relevant data presented in an easily accessible way," says Rick Ferris.
Rentjungle.com, launched May, 2009, is the most comprehensive rental listing site on the web. It works much like other search engines in that it scours the Internet to amass apartments for rent from a variety of sites. Unlike other search engines, though, Rentjungle.com specializes only in apartments. Users can search, sort and bookmark individual listings. Plus, users can also view listings on an innovative user-friendly map. Rentjungle.com was founded to fill a void in the online real estate market by offering a simple, easy-to-use directory and one-stop-shop destination for renters.
For media inquiries and interviews, please contact Jon Pastor at 877-300-2505
###