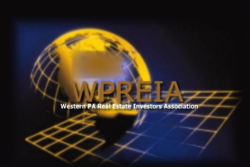 We treat our vendors like partners - Josh Caldwell WPREIA
Pittsburgh, PA (PRWEB) August 10, 2012
Western PA Real Estate Investors Association is a group of professional real estate investors dedicated to maintaining professional standards throughout the industry. At the core of this group is a desire to learn. The membership of WPREIA is centered on Pittsburgh, PA. Members use real estate as a vehicle to achieve financial independence. The investment classes of group members varies greatly from single family properties up to large scale commercial investments, but the intentions of the group are the same. Gain financial success through professionalism and education.
The basic requirements to become a vendor to the Western Pa Real Estate Investor's Association are pretty simple. The business that is applying must be able to offer its services to the Pittsburgh area or surrounding communities. The business must also have some relationship or provide a service that tie in with real estate investors. This second stipulation is a lot broader that most people would suspect. For example, real estate investors tend to travel in search of investments or educational opportunities. Travel services can include hotels, car rental, or even tour bus transportation. Other areas that rate consideration are companies that offer office supplies or services, business dinners, or any advertising media. That is not to exclude companies in more traditional real estate related fields, like title companies, law firms, moving companies, any sort of home repair, or even cleaning services.
Beyond the initial relevance of a company to the core mission of the Pittsburgh are real estate investors. The club is now opening up to more divergent business that doesn't typically connect with real estate. Almost any company that advertises to the general public could greatly benefit from partnering with the Western PA Real Estate Investor's Association. Just on numbers alone the club has some gravitas. The members of the club really have a multiplier effect for any company that becomes an approved vendor. Landlords are famous for giving little gifts and offering incentives to potential and new tenants. There is no better way for a local establishment to get in good with the locals than to have a connection with the landlord. The pizza industry can attest to this fact.
Once a company is accepted as having some relevance to the investors, then the question of reputation comes up. The Western Pennsylvania Real Estate Investors Association will only accept vendors who have earned a good reputation in the community. There will be no variance from this requirement. The club members adhere to a strict code of ethics and collectively uphold the good reputation of WPREIA. Consequently the club reserves the right to disassociate from any vendor who does anything to tarnish the reputation of the group.
All businesses who are interested in applying should contact the WPREIA through the clubs web site PittsburghREIA.com or email directly to the selection committee at PittsburghREIA(at)aol(dot)com.