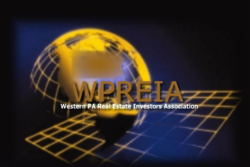 "if you want to make money in real estate, you need two things. You need an education, and you need to take action. We can help with the first one, but the second one is all you" - Josh Caldwell
Pittsburgh, PA (PRWEB) August 08, 2012
In June of this year, our founder Jean Yevick passed away. Ms. Yevick had run the organization since its inception in 1988. It was her mission to help real estate investors across Western Pennsylvania. In continuance of that mission, Mr. Caldwell has stepped up and taken the reigns of leadership for the club.
Mr. Caldwell was one of the serving board members at the time of our founders passing. He is a full time real estate investor, and owns a variety of investment properties across our region. He has a great deal of knowledge in all facets of real estate investing and is backed up by a team of experienced real estate investors and subject matter experts.
With Mr. Caldwell's leadership the club is looking to expand its mission, to not only help existing landlords, but to help new investors achieve the goal of financial freedom. The club has already begun a series of initiatives that will help people with no real estate experience at all to get started making money in this turbulent market. To be clear, real estate investors across America are making money. The goal of the Pittsburgh Real Estate Investors Association is to help its members participate in this once in a lifetime opportunity.
The Pittsburgh Real Estate Investor's Association has already scheduled an impressive list of real estate educators to come into town. The legendary Ron Legrand is coming in October (for the first time in over a decade) with "the Queen or Rehabs" Robyn Thompson, for a special two day seminar. There are many more nationally recognized speakers on the schedule.
The club has also expanded its social networking activities so that investors can get to know each other, and learn from their more successful peers. This area had been largely neglected in the past, but the new emphasis is focused on building relationships within the club itself. There is a certain synergy that can be achieved within groups of like-minded individuals all moving toward a common goal. Mr. Caldwell intends to foster these beneficial relationships for members of the club.
Another new direction for the club is in the area of philanthropy. The club has some exciting plans to partner with a wide variety of charitable organizations. Mr. Caldwell is quoted as saying, "club members have been blessed with great financial successes and it just feels good to give back". Club members are known to revitalize sections of individual neighborhoods, and have been doing so for years, but this new philanthropy is broader focused.
If you want to keep up to date with the club's activities, then you need to visit PittsburghREIA.com and sign in for the free newsletter.