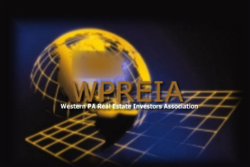 "Charity is a way for those of us who have been blessed to pass on to those who have not" Josh Caldwell, President WPREIA
Pittsburgh, PA (PRWEB) August 09, 2012
Even in a down economy and corresponding bad real estate market, WPREIA members have done quite well financially. Members of the group have embraced a number of charities on an individual basis. The next logical step is for the club to consolidate the efforts of the groups many successful members. Now the investment club is looking to partner with several charities in the coming year.
In the past, the group's charitable giving's have been limited to a local Pittsburgh area food bank. While this has been a very popular activity for the group members, there has been a groundswell of enthusiasm to expand the giving arm of the club. Real estate investors are much more involved in the community that most people realize. The majority of the truly successful real estate investors have risen up from humble means. Now that they are successful, many look for ways to give back.
The goal of this charity search is to find several charity-partners that the WPREIA members can support. The search itself is not limited to real estate related organizations. In fact the opposite is true. The group already engages in a variety of real estate related activities as part of its core business model. Members of the club are already fixing up neglected properties all over the region. Other members are providing housing to low income or handicapped individuals. While other club members focus on helping people liquidate properties that are tied up in divorce settlements or estates. This charity search is designed to find charities that are outside of the clubs investment parameters. Charities that support veteran's, help feed people, help animals, or children are very desirable. President Josh Caldwell indicated that "we are experimenting with new ways of paying it forward". The goal is to find charities that the club members can really get involved with.
Going forward WPREIA will be partnering with a new charity every month. For that month, the members of the club will promote and raise money for that particular charity. The idea is to promote awareness and foster understanding in our various communities. As a very diverse group, WPREIA can embrace a wide spectrum of non-profit organizations.
The Search committee from WPREIA has been tasked with reaching out to potential charity-partners. The goal of this search is to find a number of reputable charities that WPREIA can co-promote to the clubs membership and similar organizations. The club is not limiting the search to Pittsburgh area or real estate related charities.
Any interested charity can contact Western PA Real Estate Investors through their web site PittsburghREIA.com and by navigating to the "contact us" page.