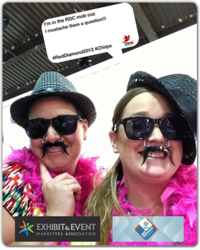 Pixe Social is awesome because you touch so many lives.
Columbia, MD (PRWEB) June 15, 2013
Pixe Social integrates with leading social media sites such as Facebook® and Twitter® in real-time. The solution enhances an event's social presence by engaging attendees and facilitating considerable face-to-face and viral interaction.
Visitors to the Red Diamond Congress Pixe Photo Booth will be provided with fun props and a tablet-based photo booth. They will be able to take their own photo, type a testimonial and share it on E2MA's Facebook® Page and Pixe's Twitter® feed in real-time.
Users will also have the option to share their photos with their friends and family in their own social networks as well as request an electronic copy of their photo.
In addition, photos taken at the photo booth will be streamed instantly to a large-sized Pixe Photo Wall display at the event venue.
Pixe LLC will be giving away one free iPad® Mini to a lucky photo booth user in a random raffle.
About Pixe LLC
Pixe LLC is a Maryland-based start-up providing turnkey social marketing solutions that is on a mission to take the challenge out of social media marketing by converting audiences into brand ambassadors. The company's flagship solution - Pixe Social - enables businesses to tap into their current customer base effortlessly and exponentially extend the viral reach of their brands with a fun and engaging photo booth solution.
Launched in April 2013, Pixe Social has powered photo booths for a number of leading brands including the National Restaurant Association's NRA Show 2013, ad:tech 2013 and Hunt Valley Horse Power.
Generations ahead of conventional photo booths, Pixe Social is deeply integrated with the leading social media platforms such as Facebook and Twitter, ensuring that photos with glowing testimonials are posted to a brand's social media pages, Pixe Photo Wall as well as emailed to Pixe users in real-time.
About E2MA
The Exhibit & Event Marketers Association (E2MA) is the premier thought leader and content development organization for corporate marketers, and their suppliers, in the face-to-face marketing medium.
The Red Diamond Congress (RDC) is the annual conference of the E2MA. The RDC attracts more than 200 of the top corporate exhibitors and event managers with six and seven-figure annual budgets from throughout the U.S.