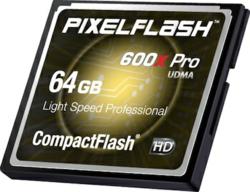 The Nikon D800 is a great addition to [the Nikon] product family, and we're proud to support it with our premium CF memory cards.
Los Angeles, CA. (PRWEB) September 19, 2012
Memory card company PixelFlash confirmed today its complete line of high speed (533x and faster) CF cards are compatible as Nikon D800 memory. The announcement answers the call of professional photographers in the Nikon creative community who have searched for compatible D800 cards since the release of the camera in early 2012. By making all of their high speed CF cards D800 compatible, the company enables these shooters with higher speeds in the field at lower prices.
While the D800 has proven extremely popular, the Nikon community took to blogs and message boards early in its release searching for CF cards functional with this professional-grade, full-frame SLR. PixelFlash immediately responded, updating every high speed CF card as fully compatible D800 memory.
"As a newer company on the block, we want the shooting community to be confident that they'll get the perfect D800 memory card from us," Deshko Gynes, PixelFlash founder and CEO, said. "The Nikon D800 is a great addition to [the Nikon] product family, and we're proud to support it with our premium CF memory cards."
Gynes, who founded PixelFlash in 2009, reports orders for compatible D800 cards have risen as shooters discover the merits of PixelFlash technology. Some specific cards have been particularly well received.
"Our recommended line, the Light Speed Professional Series, has been especially popular among Nikon D800 users," Gynes said. It's a bond PixelFlash is glad to have established with users of Nikon's groundbreaking camera. "We have a great relationship with the Nikon enthusiast community," said Gynes.
The Light Speed Professional D800 CF cards range in storage size from 8GB to 128 gigabytes. The cards also exceed requirements for D800's high-speed burst and 1080p HD video modes, with clocked speeds at well over 600x, Gynes said.
To learn more about PixelFlash D800 memory, the Light Speed Professional series or about the company, please visit pixelflashmemory.com. PixelFlash memory cards are available for order directly at the site, or from major online retailers such as Amazon.
About PixelFlash:
PixelFlash, Los Angeles-based media company, specializes in memory cards and accessories for professional and amateur photographers. All Pixelflash compact flash cards blend fast speeds with universal compatibility across every brand of digital camera. Founded in 2009, PixelFlash actively promotes and supports shooters in a wide variety of fields, including action sports, outdoor, fashion, and fitness.