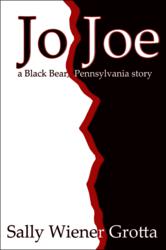 A compelling, beautifully crafted story, with richly drawn, intriguing characters.
(PRWEB) May 06, 2013
Judith Ormand learned hate and bigotry early in life. As a child, she was the only black — and the only Jew — in a small insular Pennsylvania mountain village where she was raised by her white Christian grandparents. Now, she must reluctantly break her vow to never return to the town she learned to hate. During her one-week visit, she buries and mourns her beloved grandmother, is forced to deal with the white boy who cruelly broke her heart, and is menaced by an old enemy. But with her traumatic discovery of a long buried secret, Judith finds more questions than answers about the prejudice that scarred her childhood.
Jo Joe is a mystery of the heart that takes the reader through a journey of twisted memories, distorted love, and bigotry that threatens violence. Within the framework of a compelling, character-driven story, "Jo Joe" explores issues of prejudice, bigotry and the two-edged sword of memory, that will generate passionate and personally revealing discussions among readers. This intriguing novel is particularly appropriate for book clubs.
"Thought provoking and inspiring." – Margo Crispino Azzarelli
"I read it through in a single sitting—masterfully developed." – Professor Claire Herschfeld
"Storytelling at its best! This is one of those books that will stay with me for a long time. Ms. Grotta is a compelling writer whose style and descriptions are so phenomenal I could see the woods, farmhouse, photographs...smell the foods and perfumes, and feel the raw emotions." – Dottie Resnick
Availability
Published on May 6, 2013, "Jo Joe" by Sally Wiener Grotta is now available in all bookstores, including Amazon.
Members of the press and media should contact Cynthia Dadson of Pixel Hall Press for review copies.
Volume discounts for book clubs and other discussion groups or classrooms are available.
About Sally Wiener Grotta
Whether she is writing books, chatting with audiences or taking photographs, Sally Wiener Grotta is the consummate storyteller, reflecting her deep humanism and appreciation for the poignancy of life. As an award-winning journalist, she has traveled on assignment to all seven continents, and has authored many hundreds of articles, columns and reviews for scores of glossy magazines, newspapers and online publications, as well as numerous non-fiction books. Her short fiction has been published in the "North Atlantic Review." "Jo Joe" is her first novel. With such a wide and varied background, Sally Wiener Grotta is a dynamic, fascinating interviewee and speaker.
A member of the American Society of Journalists & Authors, Sally Wiener Grotta is a frequent speaker at conferences and other events on the business of writing. She welcomes invitations to participate in discussions with book clubs (occasionally in person, more often via Skype or phone), and to do occasional readings.
About Pixel Hall Press
Pixel Hall Press is a relatively new, but old-fashioned small publishing house that focuses on discovering literary gems and great stories that might have otherwise been overlooked.
In this era of digital technology, Wall Street involvement and merger mania, mainstream publishers seem to have lost sight of the core principles and purpose of publishing. At the other end of the spectrum is an avalanche of self-published books that are notoriously uneven in quality. Small boutique imprints, such as Pixel Hall Press, are reclaiming the heart and soul of publishing by reviving the idea that a publisher's "raison d'être" is to find and nurture great writers, and to provide readers with beautiful, meaningful, truly enjoyable books.