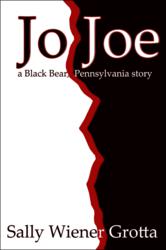 Storytelling at its Best! This is one of those books that will stay with me for a long time.
(PRWEB) June 06, 2013
"Jo Joe," a new novel from Sally Wiener Grotta, is garnering rave reviews. Within the framework of a compelling, character-driven story, "Jo Joe" explores issues of prejudice, bigotry and the two-edged sword of memory -- a volatile concoction that is generating passionate and personally revealing discussions among readers. If you want to see what all the buzz is about, download a free excerpt of the novel here.
"Brilliant!... Skillfully woven." – Peter Simpson
"Thought provoking and inspiring." – Margo Crispino Azzarelli
"A riveting read. Astute, psychologically believable and moving." – Rabbi Peg Kershenbaum
"I read it through in a single sitting.... masterfully developed." – Professor Claire Herschfeld
About "Jo Joe"
"Jo Joe" is a mystery of the heart about Judith Ormond, a young mixed race Jewish woman. Seventeen years earlier, violence and hatred had driven her away from the small Pocono Mountains village where she was raised by her white Christian grandparents. Now, with the death of her beloved grandmother, she must reluctantly break her vow to never return to the town she learned to hate. During the one week visit, she's forced to deal with the white boy who cruelly broke her heart and is menaced by an old enemy who threatens new brutalities. But with her traumatic discovery of a long-buried secret, Judith finds more questions than answers about the prejudices that scarred her childhood.
"Jo Joe" is now available in hardbound, paperback and ebook editions from all brick-and-mortar and online bookstores, including Amazon and Barnes & Noble.
About Sally Wiener Grotta
Sally Wiener Grotta is the consummate storyteller, reflecting her deep humanism and appreciation for the poignancy of life. As a journalist and reviewer, she has authored literally many hundreds of articles, columns and reviews for scores of glossy magazines, newspapers and online publications, plus numerous non-fiction books. Her many assignments around the world, to all the continents (including three trips to Antarctic), plus many exotic islands (such as Papua New Guinea and Madagascar) have flavored her stories with a sense of wonder and a depth of knowledge and understanding of our human experience. Sally Wiener Grotta is a frequent speaker on the business of writing at conferences and other events, as well as on photography and the traditional tradespeople of American Hands. She welcomes invitations to participate in discussions with book clubs (via Skype or phone), and to do occasional readings. You can also connect with her on Facebook, Twitter, LinkedIn, Google+ and/or her blog.
About Pixel Hall Press
Pixel Hall Press is a relatively new, but old-fashioned small publishing house that focuses on discovering literary gems and great stories that might have otherwise been overlooked.
In this era of digital technology, Wall Street involvement and merger mania, mainstream publishers seem to have lost sight of the core principles and purpose of publishing. At the other end of the spectrum is an avalanche of self-published books that are notoriously uneven in quality. Small boutique imprints, such as Pixel Hall Press, are reclaiming the heart and soul of publishing by reviving the idea that a publisher's "raison d'être" is to find and nurture great writers, and to provide readers with beautiful, meaningful, truly enjoyable books.