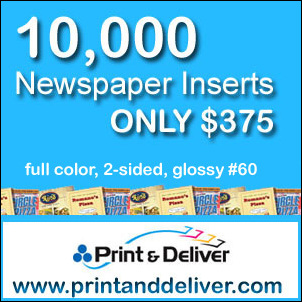 During the first day our newspaper inserts went into circulation we experienced an immediate 50% to 70% increase in sales. Each of our newspaper insert campaigns have lead to a marked increase in sales over the next ten to fourteen days …at the fourteen day mark we usually send out another newspaper insert
Richmond, VA (PRWEB) November 15, 2006
Pizza restaurant owners know from experience that menus, flyers, and newspaper inserts are time-tested and effective methods of advertising. However, most privately-owned restaurant marketing budgets simply don't generate the numbers necessary to support full-color printing. In fact, the costs of print advertising are a critical advantage for corporate chains over smaller local businesses.
John Tackett, owner of Donna D's Pizza of Ashland, Ohio, recently spoke about the importance of print advertising and how it has affected his business. "Locating effective marketing and sales tools in today's competitive restaurant industry is problematic to say the least. Small communities have been targeted by corporate chains, and the small businesses that don't advertise properly suffer as a result. We searched the web and found that only Print and Deliver offered a comprehensive print advertising solution for small restaurants. We placed our order online and saved hundreds of dollars on the production of our flyer." The business owner also noted, "During the first day our newspaper inserts went into circulation we experienced an immediate 50% to 70% increase in sales. Each of our newspaper insert campaigns have lead to a marked increase in sales over the next ten to fourteen days …at the fourteen day mark we usually send out another newspaper insert," he said.
Tackett also added, "Our business has been family-owned for the past 40 years in a small town with less than 20,000 residents, and one would think that we would not need to advertise. Well, nothing could be further from the truth."
Despite their long history of service and small town location, positive word-of-mouth referrals are not enough to ward off aggressive competitors. The experienced professionals at Donna D's have incorporated four decades of trial and error into their current, highly-effective print advertising marketing strategy. Donna D's marketing campaigns have helped the family-owned pizza shop move forward with plans to open a new location and have simultaneously reduced the impact of national chains in the area.
Jim Fitzgerald, Owner and CEO of Print and Deliver, understands that small businesses need access to affordable full-color print marketing solutions in order to grow. "Full-color, glossy printing is not only more effective than black and white, it also lends credibility and professionalism to the business. According to the Newspaper Association of America, color ads score sixty-two percent higher than black-and-white ads. That's why the big guys use it. Now the little guys have access to the same weapon as they fight for market share," he said.
About Print and Deliver
Print and Deliver (http://www.printanddeliver.com) is a streamlined bulk printing company that offers 10,000 full color, two-sided, glossy menus or flyers for only $375. This barrier-breaking offer has gained tremendous national visibility over the last year as pizza shops cash in on this sales-driving pizza marketing solution. Their website provides registered users with access to free market-specific research data, templates for effective print advertising, on-line customer assistance, and articles focused on successful business marketing techniques.
###