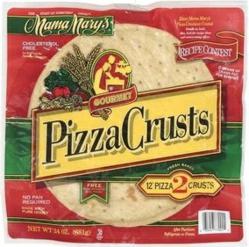 Kids love to spread the pizza sauce on the crust and decorate their pizza with cheese, pepperoni, and their other favorite toppings.
San Francisco, CA (PRWEB) November 29, 2012
Families can have a jolly good time together this holiday season making delicious homemade in their own kitchens quickly and easily, and without making a big mess. In about eight minutes—and for about $5 per pepperoni or extra cheese recipe pizza—families can create their own fresh, hot, restaurant-quality pizza using Mama Mary's pre-made pizza crusts, pizza sauce, and sliced pepperoni.
Mama Mary's coupons printed from CommonKindness.com save the coupon user $1 on 2--packs of 12-inch pizza crusts and 50¢ on each jar of pizza sauce and bag of sliced pepperoni. In addition, every free grocery coupon from CommonKindness.com redeemed at the checkout generates funds for the coupon user's favorite nonprofit organization.
"Moms feel good when their kids create their own personal pizza using Mama Mary's products," said CommonKindness president Sarah Schloemer. "CommonKindness coupon are the latest way Spartan Foods is giving back to the community. We are very excited to now feature their Mama Mary's brand coupons on CommonKindness.com."
"A Mama Mary's pizza party is a great way to bring the whole family together," said Spartan Foods sales and marketing vice president Michael Servie. "Even small children can get in on the action. Kids love to spread the pizza sauce on the crust and decorate their pizza with cheese, pepperoni, and their other favorite toppings.
"The messiest part of making pizza at home is making the crust. Mama Mary's pre-made pizza crusts solve that problem by eliminating the need to coat the work area, which often results in coating the entire kitchen, in a blanket of hard-to-clean-up flour."
"Mama Mary's restaurant quality pizzas arrive on the table faster than delivery pizza and are a lot more fun to make than pulling a rock-hard frozen pizza out of box and shoving it in the oven," said Servie. "They are fast, easy, and convenient."
Never frozen, Mama Mary's Pizza Crusts bake in eight minutes and are available in the standard 12-inch or individual/kids' 7-inch size. Appealing to a wide variety of tastes, Mama Mary's Pizza Crusts come in Traditional, Thin and Crispy, Whole Wheat with Honey, and Brick Oven Style varieties.
Mama Mary's website offers a variety of exciting ideas, including Traditional Pepperoni, Philly Cheesesteak, and Spicy Buffalo Chicken pizza recipes. To see these and other great recipes, go to: http://www.mamamarys.com.
To use printable grocery coupons for Mama Mary's products, shoppers simply go to http://www.CommonKindness.com, select coupons for the items they want to purchase, print them out, and head to the store. CommonKindness give 20% of the distribution fee it receives to the nonprofit group of the shopper's choice.
About CommonKindness.com
CommonKindness.com is the new online grocery coupon website that operates on the principle of kindness and aims to benefit consumers, nonprofit organizations, and brands. CommonKindness is revolutionizing the online coupon industry by eliminating coupon loading and change costs, charging brands only for coupons redeemed, and donating 20 percent of its revenue to nonprofit organizations chosen by CommonKindness shoppers.
To learn more, go to http://CommonKindness.com or call (415) 729-9658.