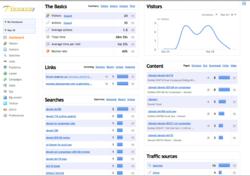 We anticipate clients will find many inventive ways to use and profit from the information obtained from Real Time Demographics.
Mount Pleasant, SC (PRWEB) October 27, 2011
PizzazzWeb Real Time Demographics is intended to not only provide the ability to analyze the visitors after the fact, it can also be integrated into the Website to provide interactive content. Mr. Hutchinson CEO of PizzazzWeb provided an example of how this could work, "A company is conducting test marketing of a new product in a specific area. That company could (with the information contained in the Demographic Database) integrate dynamic content into their Website that highlights the new product line whenever a visitor from the test market area enters the site. That is an easy example, the capabilities realized with the Demographics database go much deeper."
How does it work and what capabilities does PizzazzWeb's Demographic data provide for the average Website owner? One example of how the data could be organized and analyzed can be viewed at Real Time Demographics, this live working example is one possibility. PizzazzWeb stresses that to realize the true value of the Real Time Demographic capabilities it should be integrated into a company's Websites, Applications and Reports.
This is a huge database containing millions of records that contain the latest data available and is updated continuously as population demographics change. Data available for an individual visitor to a Website using Real Time Demographics include:
1. Average Income
2. Average Home Value
3. Number of Businesses and Number of Employees
4. Business Annual Payroll
5. Population statistics by Male and Female population sizes and age groups
6. Number of people employed in an occupation
7. Hourly Mean Wage and Annual Mean Salary
8. Hourly and Annual Salaries by 10, 25, Median, 75 and 90 percentiles
How can a Website owner use the data to improve ROI (Return On Investment)? PizzazzWeb Provides the answer by citing their own real word use of the information. They take the information about visitors to their websites and analyze it against their advertising campaigns to answer questions like:
Is the response the results expected from the areas targeted, if not, where are the visits coming from? This question and the answer allows the company to adjust campaigns to achieve the desired results.
Are there opportunities that have been missed and what are the interest of the group representing those opportunities? By looking at the actions taken by visitors to the Website and then analyzing the commonalities between where they live, work and do business. Advertising and products can be tailored to attract that specific market segment.
What types of businesses are located in an area and does the traffic indicate that a direct marketing campaign might be worthwhile? This is a big one, an email, snail mail or telemarketing campaign takes resources, time and money. PizzazzWeb, like any other company, does not have the resources and money to waste on blindly sending out direct advertising and hoping it reaches the right people. With the Business and Employment Demographic tools in it's arsenal PizzazzWeb can determine the Types of Businesses in the area, Annual Revenue and Payroll, Occupations, Average Income and Average Home Value.
Once the data is in hand a determination can be made as to rather or not the economics of a specific area supports the cost of conducting a targeted campaign.
Mr. Hutchinson stated "Real Time Demographics is a tool that we have integrated into our daily business. As a direct result of how it has enhanced our business we are providing Real Time Demographics to our clients. We anticipate clients will find many inventive ways to use and profit from the information obtained from Real Time Demographics."
PizzazzWeb, LLC is a Design, Advertising and Financial Services Company that provides end to end Business Services to companies from small business startups to major corporations looking to expand or enhance their brand. PizzazzWeb services include Web Development, Hosting, Marketing, Investment and Merchant Accounts. They can be contacted through their website PizzazzWeb.com or by phone at (888) 630-1231.
# # #