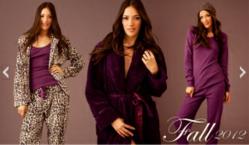 P.J. Salvage really has beautiful sleepwear! Gorgeous!
Los Angeles, California (PRWEB) December 03, 2012
P.J. Salvage, known for its luxury fabrics and chic patterns for fashionable pajamas and women's nightwear, has partnered with Sweepstakes Ninja for a luxury loungewear giveaway. P.J. Salvage has been featured in numerous media such as RedBook, Hollywood Life, the Examiner and Good Day LA. Hollywood celebrities such as Gwen Stefani, Felicity Huffman have also been spotted with these P.Js. Sweepstakes Ninja helps consumers engage with brands such as P.J. Salvage through social media, video marketing, blogging, partner websites and forums, and more through their online sweepstakes giveaways.
P.J.Salvage uses superior quality, luxurious fabrics, celebratory fits, and chic style, in designing their product line. P.J. Salvage features an extensive line of women's apparel, accessories, and even stylish iPhone covers. P.J. Salvage has also been featured in popular t.v. shows such as 'Desperate Housewives' and 'Grey's Anatomy'.
Sweepstakes Ninja offers consumers the chance to enter multiple sweepstakes through their innovative online sweepstakes draws (http://sweepstakesninja.com/sweepstakesdraw/draw/pjsalvage-womens-sleepwear-and-pajamas/). They are daily entry draws, that not only give consumers chances at winning amazing prizes, but also give companies daily branding exposure to consumers. Through the sweepstakes draws, contestants have a chance of winning luxury clothing from P.J. Salvage.
The sweepstakes promotion officially runs until January 1st, 2013. To increase their chances of winning, the entrant may share sweepstakes links with friends, family, and through social media. This is a win-win situation for both P.J. Salvage and the entrant. Entrants increase their chances of winning award winning products, and more people learn about P.J Salvage.
About SweepstakesNinja.com
SweepstakesNinja.com is the leading provider of fun and interactive sweepstakes. The company matches consumers with companies, in a fun and interactive manner. Consumers have the chance of winning amazing prizes. Companies benefit from daily exposure to their brands, word of mouth advertising, customer loyalty, and long term increases in profit. For more details, visit http://www.sweepstakesninja.com/