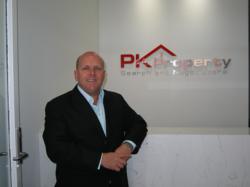 This is an incredibly exciting time for us here at PK Property, having decided to move into the territory that real estate agents have owned for so long now.
Sydney, New South Wales (PRWEB) October 08, 2012
After serving clients for more than 13 years in Cremorne, Sydney's original and premier buyers agent, PK Property Search and Negotiators, have great pleasure in announcing their move into a new retail space on Military Road, Mosman. This is in addition to their City Office located at the AMP Centre on Bridge Street, and ensures that the company can continue to service buyers across Sydney – from the North Shore and Northern Beaches, to the Hills District and Central Coast, right into Sydney's CBD, Eastern Suburbs, Inner West and Southern Suburbs.
As Director of PK Property and leading authority on Sydney real estate, Peter Kelaher, exclaims, "This is an incredibly exciting time for us here at PK Property, having decided that it's time to take a retail space and move into the territory that real estate agents have owned for so long now."
"The property landscape has altered dramatically since I started the first buyer's agency in Sydney back in 1997. Today, the use of buyers agents has risen in popularity across the country and it's this growth in awareness that makes it the perfect time to open our very first retail office."
Mr Kelaher has also stated his intention to open another retail office in the heart of Double Bay next year.
This innovative approach is typical of PK Property, who are renowned for employing a wide range of creative techniques to negotiate advantageously for their clients. With Sydney's current real estate climate, it is particularly important for buyers to know how they can secure the best deal on their next property purchase.
As Mr Kelaher explains, "Stock is at critical levels at present in every market demographic, from two bedroom units up to $700,000 to free standing homes up to $2.5 million all over Sydney."
"This is the tightest we have seen it in 7 years and as demand continues to outstrip supply, prices will remain high and create a vendor's market. The lack of property options definitely emphasizes the need to get the best deal to be able to take advantage of current low interest rates, which are predicted to become lower still by the end of this year."
The new location for PK Property is designed to shine a light on the use of a buyer's agent and how this team of real estate professionals can negotiate the most competitive rate available for their client's next dream home or investment property.
As Mr Kelaher reveals, "We want property buyers to know we are ready and willing to represent and protect them throughout the buying process, and negotiate on their behalf to get them an amazing deal."
"There are huge benefits to using a buyer's agent – in particular the fact that there's no need to do any of the legwork, which saves time, money and stress. We want to spread this message further and further – from locals looking to buy a property in Mosman where our new location has just opened, right across Sydney."
For more information about PK Property and their new retail location, visit http://www.pkproperty.com.au or contact the office direct on +61 2 9960 1066.
About PK Property
Since introducing the concept of Buyer's Agents to the Sydney Marketplace in 1997, PK Property Search & Negotiators has successfully purchased approximately $1.8 Billion worth of property for their clients.
As Sydney's first, largest and most experienced buyers agent, PK Property covers all aspects of the purchasing process - from finding the right property and determining its true market value, to negotiating the best possible price and bidding on the buyer's behalf at auction.
Their mission is simple: to help buyers counter misinformation, overpricing and emotional impulse buying.