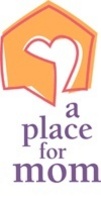 SEATTLE (PRWEB) September 18, 2008
"Many seniors are being presented with the need for sudden, urgent relocation due to Hurricane Ike. Yet finding assisted living or nursing home options quickly is a highly challenging undertaking. Elderly relocation must be handled with care always, but deserves the swiftest action in a crisis like this. We can get folks the help they need right away. Our elder care advisors are ready to help families immediately with personal, professional, expert assistance," said Pamala Temple, President and Founder of A Place for Mom.
A Place for Mom has posted information on its web site to help families affected by the hurricane find help quickly. Families can visit http://www.aplaceformom.com/senior-care-resources/hurricane-ike for immediate assistance finding relocation options. Families and seniors can also reach the company toll-free at 1-866-333-3110.
About A Place for Mom
A Place for Mom is the nation's largest elder care referral network serving families who are searching for care options for elderly loved ones. A Place for Mom has over 14,000 long-term care communities in its referral network such as assisted living, nursing homes, Alzheimer's care, residential care homes, retirement communities, and home care options. Families can review detailed information about their local senior care providers online, and get free personal, professional assistance by telephone from one of 300 local eldercare advisors. A Place for Mom's referral network of senior care providers covers more than 3,000 cities in the U.S. For more information, visit http://www.aplaceformom.com or call 866-333-3110.