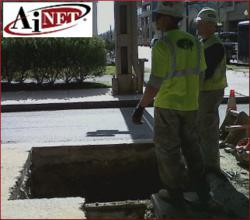 Virtually unlimited connectivity between government and commercial locations and AiNET data centers including CyberNAP™
Washington, DC (PRWEB) April 25, 2012
AiNET, an innovative leader in the design, construction, operation, and support of Internet data centers, fiber optic networks, and cloud services supporting critical applications, today released the first part in a series showing the complex task of building a state-of-the-art fiber optic communications network. This process starts with the placement of a manhole at 30th and K Streets, NW, in the historic Georgetown section of Washington, DC. While everyone has seen manhole covers, few of us ever see the underground concrete handling and encasement work that is the manhole itself. Part one may be viewed on the AiNET website.
The work was performed as part of AiNET's construction of a diverse, 10,000 fiber mile network throughout the central business district of Washington, DC and is part of AiNET's large regional fiber optic network. It provides virtually unlimited connectivity between government and commercial locations and AiNET data centers including CyberNAP™ in applications such as Disaster Recovery and Continuity of Operations (DR/COOP), and AiNET's high-performance, cloud storage services.
About AiNET
AiNET® of Beltsville, MD is a leader in engineering, construction, mission-critical technology operations for Internet data centers and fiber optic networks supporting secure, critical applications. The 19 year-old firm currently owns and operates three SAS 70 Type II data centers in MD, including the only certified TIA-942 Tier IV data center. All data centers are protected by AiNET's patented power protection technology. CyberNAP will open in July of 2012.
CyberNAP™ is a trademark of AiNET Corporation.