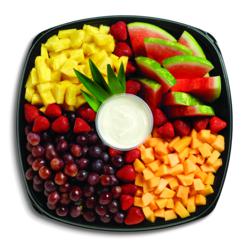 Clean-up is made easy and earth-friendly with bowls, trays and lids manufactured with up to 100% PCR content.
Madison, WI (PRWEB) May 14, 2013
Manufactured with EcoStar® food-safe recycled PET, Placon, a leading North American designer and thermoformer of custom and stock food packaging, is proud to introduce its new Fresh 'n Clear™ CaterEase plastic catering tray and bowl line at the 2013 National Restaurant Association (NRA) Show in Chicago.
The sleek black, crush and crack resistant party platters, bowls and lids are designed to securely, attractively and sustainably present a wide assortment of foods from sandwiches, salads, fruits and veggies to desserts. The tight lid seals ensure product freshness while helping prevent unexpected removal of lids from bases during handling and transport.
The tray's durable lid design features no sidewall ribbing for excellent product visibility, allowing food styling and product freshness to take center stage. Clean-up is made easy and earth-friendly with recyclable bowls, trays and lids manufactured with up to 100% post-consumer content from bottles and thermoforms diverted from landfills.
The line's single and multi-compartment tray base' venting system is engineered to slowly release trapped air when the lid is snapped on, preventing lid "ballooning" for easy stacking. For maximizing brand impact, the entire CaterEase line can be custom engraved or embossed with company logos or other designs for strong brand visibility.
The new CaterEase plastic disposable catering trays and bowls will be on display at Placon's booth #5333 at the NRA Show at McCormick Center in Chicago starting May 18th. For more information about the new CaterEase collection, samples, or to inquire about placing an order, please contact Placon at 800.541.1535.
ABOUT PLACON
For over 45 years Placon has been a leading custom designer and manufacturer of thermoformed plastic packaging with an extensive line of stock packaging products and environmentally-friendly recycled sheet materials for the retail, food and medical markets. Continuously setting the bar in thermoform packaging and sustainable material solutions, Placon provides innovative, high-quality and safe thermoformed packaging products that harness the power of tomorrow's technology and design to solve customers' challenges today. According to Plastic News, Placon ranks among the top 20 thermoformers in North America.