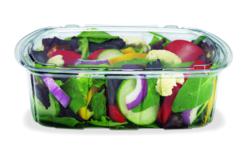 Tamper-evident containers provide consumers with a sense of security that their food hasn't been improperly tampered with.
Madison, WI (PRWEB) April 17, 2013
Especially designed to incorporate safety and sustainability in one package, Placon's new Crystal Seal® Tamper-Evident plastic thermoformed food containers are 100% recyclable with a patent-pending feature that helps minimize the potential of food tampering. The tamper evident food containers by Placon, a leading North American designer and thermoformer of custom and stock packaging, are available now in 7 grab-and-go sizes from 8 to 64 ounces.
With no removable byproducts or tear-away pieces, minimizing potential choking hazards, the food containers' double hinged tamper-evident design eliminates the necessity for shrink bands or tamper-evident labels. The plastic packaging's offset, recessed cavity instructional tabs ensure easy gripping and opening while the leak-resistant design ensures no messes or spills either in store aisles or while on the go.
"There will always be a need for safe, secure packaging that provides resistance to tampering and alerts consumers that the product has been potentially tampered with," stated Jeff Lucash, Director of Sales – Placon Stock Products. "Tamper-evident containers provide our customers and their consumers with a sense of security that their food hasn't been improperly tampered with after it was initially packed."
Strong and stackable, the food packaging containers are easy to separate by hand or via automation with minimal ribbing on sidewalls to provide great product visibility. Designed for retailers, brand owners and food processors looking for safe packaging that is environmentally responsible, the new recyclable plastic food containers safely and attractively display deli and to-go foods from sandwiches and salads, deli pasta salads, salsas, single serve desserts and dry packed foods.
"We wanted to design food packaging that took away as much of the fear of intentional, malicious tampering as possible, " continues Lucash. "For dry packed goods, such as snack mixes and candies, we also wanted to minimize the threat of theft for our customers through product "sampling". In addition, we wanted to target the sustainability factor which is why the tamper-evident containers are produced from EcoStar® RPET-F food-grade sheet manufactured with post-consumer recycled content from bottles and thermoforms."
The new Crystal Seal Tamper-Evident containers will be on display at Placon's booth #5333 at the National Restaurant Association (NRA) Show at the McCormick Center in Chicago starting May 18th. For more information about the new tamper-evident containers, or to inquire about placing an order, please contact Placon at 1.800.541.1535 or visit us at http://www.placon.com.
ABOUT PLACON
For over 45 years Placon has been a leading custom designer and manufacturer of thermoformed plastic packaging with an extensive line of stock packaging products as well as environmentally-friendly recycled sheet materials for the retail, food and medical markets. Continuously setting the bar in thermoform packaging and sustainable material solutions, Placon provides innovative, high quality and safe thermoformed packaging products that harness the power of tomorrow's technology and design to solve customers' challenges today. According to Plastic News, Placon ranks among the top 20 thermoformers in the U.S.