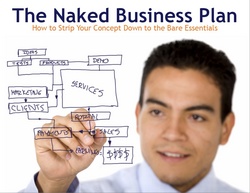 Our new eBook is filled with proven exercises, illustrative examples, and useful advice to help entrepreneurs clearly define their goals and action plan
Rockville, MD (PRWEB) August 5, 2009 -
Aspiring and seasoned entrepreneurs now have a free resource to make their business plan writing simple - and even fun. MoreBusiness.com has released a new eBook, The Naked Business Plan, to help entrepreneurs effectively plan a business of their dreams. This step-by-step guide provides proven advice, illustrative examples, and powerful exercises that are geared to help entrepreneurs focus on the core and foundational strategy of their business concepts.
The Naked Business Plan eBook strips business planning down to the basics in order to create a simple, yet extremely useful business plan. From comprehensive questions that help you specifically pinpoint your customer base to strategies on how to really "shop" your competition, this eBook helps every entrepreneur translate concepts into reality. Inside this eBook, readers will find valuable tips on how to plan a business, including:

Setting tangible goals and milestones
Creating a powerful elevator speech
Precisely defining your target customer base
Intelligently understanding your competition
Articulately structuring the core of your business plan
And much more!
"Our new eBook is filled with proven exercises, illustrative examples, and useful advice to help entrepreneurs clearly define their goals and action plan," says author and CEO Raj Khera, "Better yet, this free eBook goes beyond the cold numbers to help any entrepreneur plan a business with his or her life ambitions in mind."
Thanks to The Naked Business Plan eBook, business plan writing is no longer a theoretical concept peppered with complicated financial models. Instead, this publication speaks to entrepreneurs who want to plan a business to realize their dreams and fulfill their potential. Through effective, hands-on exercises, readers can instantly practice what they have read - which translates into a more engaging, effective business plan writing experience.
After reading this resource, entrepreneurs will be able to plan a business based upon strategic action items that will help them reach either goals. By downloading this free eBook, readers will also receive a free business plan template, along with a variety of exercises to prepare you to plan a business successfully.
The Naked Business Plan eBook can be downloaded for free at: http://www.planabusiness.com/
About MoreBusiness.com:
MoreBusiness.com is an award-winning small business website filled with sample business plans, marketing plans, templates, sample contracts and business agreements to help entrepreneurs start and grow a small business. MoreBusiness.com is part of a series of sites run by Khera Communications Inc., which includes email marketing service, MailerMailer, and discussion group management tool, DiscussThis.
###