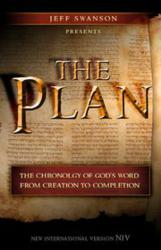 Dr. Tim LaHaye says, The Plan is a unique adaptation of the Bible that will increase your reading experience and understanding of God's Word.
Tulsa, OK (PRWEB) November 27, 2012
The Plan Bible New Releases
The Plan Bible has published The Plan: The Chronology of God's Word from Creation to Completion in the 2011 New International Version (NIV). This modern version is an original translation of the Bible developed by more than one hundred scholars working from the best available Hebrew, Aramaic, and Greek texts, is rearranged in time order of each event. For those who prefer traditional reading, The Plan is now available in King James Version (KJV), the most requested translation.
The new release of The Plan includes over 3,000 enhancements as well the previous features including 440 date calculations of biblical history, over 2,000 prophetic verses color coded to their fulfillments and over 2,500 prophetic verses that will be fulfilled in the future; all placed in outline format that reads like a single message starting with Creation and ending with the Completion of all ages. There are hyperlinks as well that take the reader from the declaration of a prophecy to its fulfillment, simply clicking on them eventually takes the reader back to the start of the thread.
The Plan even helps students with an integrated reading guide for reading The Plan, whether they wish to complete their reading in one year, six months, or three months. Its digital format eases and enhances the reading through text searches, loops, and portability, while appealing to a new generation of biblical students, presenting the Bible to them in a manner that is more relevant to their lives. The Plan is an invaluable tool for enhancing the understanding of the Bible, adding layers of meaning to both the stories of the Bible and the events of world history, and deepening the reader's faith. More information can be found at http://www.PlanBible.com .