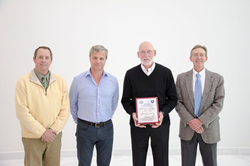 Portsmouth, NH (PRWEB) November 05, 2014
PlaneSense, Inc. welcomed the Federal Aviation Administration to its Portsmouth, NH, headquarters on Tuesday, October 28th, for the presentation of the Wright Brothers Master Pilot Award, which was given to Jerry Johnson, a former PlaneSense® program Chief Pilot.
According to the Federal Aviation Administration (FAA) the Wright Brothers Award recognizes the efforts of pilots who have followed and continue to follow the precaution and awareness of safe flight operations. Notably, the award is only given to pilots who have contributed and maintained safe flight operations for 50 or more consecutive years of piloting aircraft.
John Wood, the FAA Safety Team Program Manager of the Portland, Maine Flight Standards District Offices (FSDO), noted that this award is significant because the aviation industry has only existed for a little over a century.
"If one considers the Wright Brother's first flight in 1903 as marking the launching point of aviation, then we are only 111 years downstream from that event," Wood said. "A pilot who has been flying for 50 or more years has not just seen and experienced industry changes, but has been a living part of them. People like Jerry Johnson have been authors of the rich and amazing history of aviation."
Johnson started his career as a Marine Corp A-4 air attack pilot flying in Vietnam. Later, he flew another tour as a close air support FAC in O-1 Bird Dogs. After leaving the military, Johnson joined Northwest Airlines and retired as a 747 Captain after 34 years of employment. That's when he joined Alpha Flying, which later became PlaneSense, Inc., where he served as the Chief Pilot. He finished his career working in Africa flying aircraft for a non-government contractor.
Johnson said that he was much honored to receive The Wright Brothers Master Pilot Award; however, he gives the credit for the aviation industry's success to entrepreneurs who build aviation businesses and keep people at work, such as PlaneSense, Inc.'s President and CEO, George Antoniadis.
"PlaneSense was very fortunate Jerry joined our team as he instilled a correct ethic of good work and safe flying," Antoniadis said. "We are very pleased Jerry has received this award and are also honored to have had him as a former Chief Pilot."
Before Johnson retired from aviation he had flown 37,000 commercial flight hours.
"This is an accomplishment of which to be very proud." Wood added.