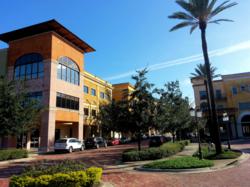 Planet Holdings Group wants to grow roots and create opportunity through job creation, market expansion and great online stores.
Orlando, FL (PRWEB) October 09, 2012
Planet Holdings Group (PHG), an e-commerce business development company based in Central Florida, has relocated its corporate offices to Veranda Park, a picturesque Mediterranean-style mixed development community in the heart of Orlando's tourism and hospitality region.
The new offices are a coveted location thanks to its unique architectural design, which resembles a village from Italy's Tuscan region—a great location for a company that is as vibrant as the colorful setting of its buildings.
Staying true to its namesake, the company has a global approach to everything it does as e-commerce has a wide appeal worldwide—hence the name "Planet" in many of its websites and spinoff brands.
PHG principals, Marcelo Muller and Andres Goyanes, are excited about the new offices and see it as a perfect location for the next phase of growth that includes the launch of multiple e-commerce stores to include PlanetStoreFront.com, PlanetPetSupply.com, OONEEQ.com, and RockstarFridays.com—among many more.
As the company grows, it continues to develop new relationships with some of the world's most unique and innovative product suppliers in a variety of categories ranging from apparel to electronics.
"Customers are the primary focus in our business and to ensure this we work with only the best suppliers" says Marcelo Muller, one of the Principals at PHG. "In my experience, hard work ensures growth and that's our company's work philosophy."
Orlando is an excellent location for an e-commerce company as the city's reputation as a business hub continues to grow, largely thanks to its stable infrastructure and business-friendly appeal to companies in the technology industry.
"Having lived in Orlando for over a decade, Central Florida is a springboard for growing companies," added Goyanes. "While we can work from any location thanks to mobile technology, our company wants to grow roots and create opportunity through job creation, market expansion and great online stores."
As the company readies PlanetStoreFront.com for launch, PHG is developing additional e-commerce websites for real estate, global commerce and other niche markets that are transitioning to the online world to generate leads and online sales.
ABOUT PLANET HOLDINGS GROUP
Planet Holdings Group, LLC (PHG) is a business concept development company that creates and manages a proprietary portfolio of e-commerce enterprises across the globe. PHG's business philosophy is to power e-commerce with innovation, serving its markets with exceptional technology, management, quality, and customer service to ensure the satisfaction of its customers—its primary business focus. The company's main office is located in Orlando, Florida and its multilingual staff speaks English, Spanish and Portuguese.
To learn more about Planet Holdings Group, visit http://www.planetholdingsgroup.com.
MEDIA CONTACT:
Andres Goyanes
Phone: 407-844-0988
Email: media (at) planetholdingsgroup(dot)com