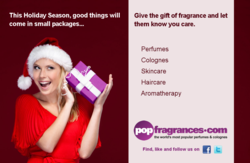 Our job is to get the best price for each product so that our customers are happy and our business is profitable.
Orlando, Florida (PRWEB) October 18, 2012
Planet Holdings Group (PHG), an e-commerce business development company based in Central Florida, is expanding into new markets with the addition of niche online retail stores in preparation for a busy Holiday Season in 2012.
As part of its multi-brand development strategy, PHG is currently developing PlanetStoreFront.com, an online department store carrying a variety of consumer products ranging from apparel and footwear to electronics, which is set to open in early 2013.
However, complementing PHG's online department store strategy is a desire to grow multiple stores every year to connect to narrower markets that have wide appeal to broad age cohorts with multiple psychographic profiles.
Among its portfolio of e-brands is PopFragrances.com, an online store with the catchy slogan of "the world's most popular perfumes & colognes" and will offer discounted fragrances, as well as skincare, haircare and aromatherapy products.
"Our goal is to connect products from our online stores to a wide range of customers who are actively seeking and consuming these products," says Andres Goyanes, whose role as a PHG Principal includes the development of marketing strategies. "The old adage of "fishing where the fish are" is a guiding philosophy in our strategic approach."
In a recent report quoted by InternetRetailer.com, the National Retail Federation reported that 51.8 percent of American consumers will do their holiday shopping online, drawn by the appeal of price discounts and wider variety than on stores in malls across the nation.
While consumers are still drawn to established bricks-and-mortar retailers, the online marketplace allows companies like PHG to focus and develop their online stores using specialty or niche strategies without the limitations of physical inventory—or the need for rainchecks.
"Following the recession period of the past few years, people are still in price-conscious mode," added Marcelo Muller, whose background includes large-scale wholesale and retail commerce between the U.S. and Brazil. "Our job is to get the best price for each product so that our customers are happy and our business is profitable."
Niche markets allow online retailers to capture interest in products that are often found in conventional retail stores at higher prices and with more limited quantities—particularly during periods of high demand such as the Christmas shopping season.
Online stores dedicated to unique products in niche markets—such as toys, fragrances or specialty apparel—have an increased potential for capturing interest and converting it into transactions, with the added benefit of viral appeal.
PopFragrances.com is set to open in early November 2012, just in time for the holiday shopping rush, including Black Friday and Cyber Monday—this last one being a popular event for bargain-shoppers who don't want to leave the comfort of their home but have a desire to get their Christmas shopping done before December.
ABOUT PLANET HOLDINGS GROUP
Planet Holdings Group, LLC (PHG) is a business concept development company that creates and manages a proprietary portfolio of e-commerce enterprises across the globe. PHG's business philosophy is to power e-commerce with innovation, serving its markets with exceptional technology, management, quality, and customer service to ensure the satisfaction of its customers—its primary business focus. The company's main office is located in Orlando, Florida and its multilingual staff speaks English, Spanish and Portuguese.
To learn more about Planet Holdings Group, visit http://www.planetholdingsgroup.com.
MEDIA CONTACT:
Andres Goyanes
Phone: 407-844-0988
Email: media [at] planetholdingsgroup.com
###