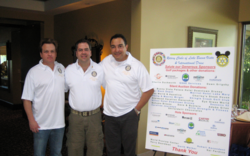 Rotary is all about 'Service Above Self' and raising money for textbooks is a great way to live up to this philosophy.
Orlando, FL (PRWEB) October 02, 2012
Planet Holdings Group (PHG), an e-commerce business development company based in Central Florida, have become sponsors of the Rotary Club of International Drive's Charity Golf Tournament, one of several fundraising initiatives for a Book Scholarship to be awarded to students at the UCF Rosen College of Hospitality Management.
Planet Holdings Group's principals, Marcelo Muller and Andres Goyanes, are both Rotarians who value the opportunity to participate in the Rotary golf tournament, which brought together over 60 participants from the many Rotary Clubs in the Central Florida area.
The Rotary Charity Golf Tournament was held on September 28, 2012 and it was a joint collaboration between the Rotary Clubs of International Drive and Lake Buena Vista, both of which are very active clubs in Orlando's hospitality and tourism industry.
Rotarians visiting Orlando's theme parks and convention centers often visit these two Rotary Clubs, which are strategically located between the Disney and Universal Studios' theme parks that attract millions of visitors every year.
"These days, students welcome any help that can alleviate the heavy burden of rising tuition and textbook costs," said Andres Goyanes, a principal at Planet Holdings Group. "Rotary is all about 'Service Above Self', and raising money for textbooks is a great way to live up to this philosophy."
Goyanes currently serves as President of the Rotary Club of International Drive in Orlando, which meets every Wednesday from 5:30 pm to 7:00 pm at the Embassy Suites Hotel located on Jamaican Court and International Drive—one of Central Florida's most iconic tourism districts.
"We are excited to contribute to this great cause," added Muller, who is also a member of the Rotary Club of International Drive. "Rotary is a great organization that helps the communities it serves—thus a perfect reason for PHG to participate in its noble causes."
Planet Holdings Group and its staff actively participates in the area's Rotary events, which range from charity cookouts to conferences and seminars that promote fellowship, business networking and the opportunity to help enhance the spirit of the Central Florida community.
ABOUT PLANET HOLDINGS GROUP
Planet Holdings Group, LLC (PHG) is a business concept development company that manages a portfolio of e-commerce enterprises across the globe. PHG's business philosophy is to power e-commerce with innovation, serving its markets with exceptional technology, management, quality, and customer service to ensure the satisfaction of its customers—its primary business focus. The company's main office is located in Orlando, Florida and its multilingual staff speaks English, Spanish and Portuguese.
To learn more about Planet Holdings Group, visit http://www.planetholdingsgroup.com.
MEDIA CONTACTS:
Andres Goyanes
Phone: 407-844-0988
Email: media (at) planetholdingsgroup(dot)com
###