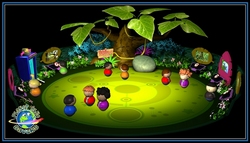 When you enter www.SavePlanetBlue.com/ , it looks very much like an actual stage in the round.
Orlando, FL (Vocus) July 1, 2009
SavePlanetBlue.com, the new 3-D interactive game website for children, was launched just 2 weeks ago and Broadway has already taken notice. Broadway World featured SavePlanetBlue.com recently, citing its environmentally themed children's games as "Theatre Games for Kids."
"It's actually the perfect description of our website," says Planet Blue's creator, Victoria Lauren. "When you enter http://www.SavePlanetBlue.com/ , it looks very much like an actual stage in the round." Lauren continues the comparison, "Once children register, they do become actors in a way, creating characters and choosing their unique looks with various colors. Then they get to run around and explore in a 3D stage setting."
"We have extensive productions in development for Save Planet Blue which includes television, film and a live stage tour. But the message that is at the core of Save Planet Blue, children becoming aware of taking care of our planet, will remain the primary goal whatever the future holds," Lauren adds. Creating awareness and giving back to the Earth by supporting various environmental groups is the foundation that is Planet Blue's mission.
Children around the world are invited to register today and become Planet Blue Savers for free. Kids will build their own personalized weeble-type character after joining and then be able to explore and play on Planet Blue. There are other Planet Blue Savers who will have conversational exchange, help you navigate the games, and share environmental facts with you. All you have to do is bump into them!
You can start earning points with each game and acquire badges. A really unique aspect to this merit system is that when you acquire your highest badge, "The Tree Badge", SavePlanetBlue.com will adopt a tree in your name and have it planted in the rainforest.
For a nominal fee you will be able to explore Planet Blue more extensively and have access to an interactive gaming website that will continue to grow and evolve each month.
At a time when our environment and our economy are crucial concerns, SavePlanetBlue.com is definitely a good entertainment value for children this summer.
Visit: http://www.saveplanetblue.com/ for more information or watch the sneak preview of the television series currently in development at http://www.saveplanetblue.com/trailer/. Children of all ages are welcome.
Media Contact:
Susanna Brooks
BlueVision Entertainment
407-792-0272
###