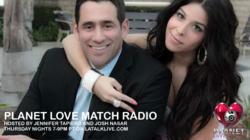 "I think it's important to unleash that sexual part of you," says Dating Expert DeAnna Lorraine.
Los Angeles, CA (PRWEB) February 21, 2012
Relationship experts DeAnna Lorraine and Ryeal Simms examined how asexuality affects relationships on recent episodes of the weekly dating advice show, Planet Love Match Radio. Shedding light on this rarely discussed sexual classification, they each try to answer questions about what asexuality is (also known as Gray-sexuality), the importance of sex in relationships, and how science is involved in our levels of interest in having sex.
Like some psychiatrists and psychologists, dating coach DeAnna Lorraine sees Asexuality as a barrier to finding happiness. "Asexual means that you just have no interest in sex. I don't think it's actually healthy for someone to be Asexual their whole life," she asserts.
With certifications in Neuro-Linguistic Programming, Hypnosis, and Emotional Freedom Techniques, DeAnna specializes in helping her clients find happiness in their existing and future relationships. Nicknamed "Ms. Hitch," she believes that getting to know your hidden sexual side can boost your confidence and improve your well-being.
"I think it's important to unleash that sexual part of you," adds Lorraine.
Board-certified relationship counselor Ryeal Simms attributes Asexuality to each human's unique biology, with some having different levels of "attraction" producing hormones. "The term (Asexual) is based on our testosterone and our estrogen levels. Sometimes women may have a little bit more than the male," he states.
Creator of the "Terzetto Theory®", Ryeal's passion is analyzing the science of relationships by dissecting why we do what we do. He breaks down different sexual labels based on the biology of the individual. "Gray-sexuality is in-between. It's not exactly too much or more, some people can do less," adds Simms.
Studies have shown that finding a healthy sexual balance and enjoying great communication are both key in strong relationships. Simms and Lorraine both agree that sex is an important component in most healthy long-term relationships.
"You have to do something to tap into that sexual energy, because it's important. We are all sexual beings," Lorraine affirms. Asexuals can have very diverse levels of sexual attraction, and many have found ways to form intimate and loving relationships.
"Some couples could have a really good relationship and not much sex," Simms adds. "It all depends on your partner."
Recently, Planet Love Match interviewed a group of Asexuals for their relationship advice blog in hopes of shedding light on this misunderstood and debated topic. Planet Love Match's interest in Asexuality stems from the desire to provide singles of all inclinations, ethnicities and lifestyles with a safe place to meet like-minded singles. To read more, visit http://blog.planetlovematch.com/category/Asexuality.aspx.
Planet Love Match Radio airs every Thursday night from 7- 9pm Pacific Time on LATalkLive.com. Hosted by Jennifer Tapiero and Josh Nasar, the show encompasses all aspects of relationships, love, sex, dating, and finding love online. Planet Love Match Radio is sponsored by online dating website PlanetLoveMatch.com.
About Planet Love Match®
PlanetLoveMatch.com™ is a social online dating website that provides singles with an immersive and interactive way to find and meet people online, no matter where they are. Using a proprietary matchmaking algorithm, over 2,500 dating niche communities and over 50 ways to communicate, Planet Love Match offers a safe and private way to create meaningful connections with like-minded people. Planet Love Match is powered by KABUUM®, a communication platform developed by Global Marketing Resources, Inc. Founded in 1995, GMRI is headquartered in Dunedin, Florida.
###