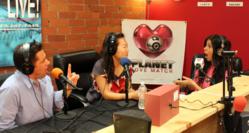 Los Angeles, CA (PRWEB) March 31, 2012
Television stars David Bailey and Helen Hong talked relationships and dating in the gay and lesbian communities on a recent episode of the weekly dating advice show, Planet Love Match Radio. The guests both used comedy and real-life experiences to describe the approaches gays and lesbians use when dating.
While using broad generalizations to create a baseline for listeners of the Planet Love Match Radio show, comedian Helen Hong zeroed in on some of the main LGBT dating distinctions. "Lesbians are very different than gay men, who are very different from straight people – because for instance, gay guys operate faster. They hook-up faster, they get together faster," she stated.
"Lesbians go even slower – I feel like they want to be friends first. They go slower to get into the relationship, and then once they are in the relationship, it's like suddenly they went from casual dating to 'we're moving in together'," she added.
Starring as a professional wingman for the Logo Channel's reality dating series "Setup Squad", Helen Hong has been using levity to help others find love for years. When she's not doing stand-up comedy, she hosts a comedy matchmaking event called "Love Match."
David Bailey is co-founder of Keller Williams Realty Beverly Hills, and star of HGTV's real estate reality show "Selling L.A." Serving as an executive board member of the L.A. Gay & Lesbian Center — the largest LGBT community service organization in the world — and being in a committed relationship with his partner for over 16 years, David brings an informed, real-world perspective to the conversation.
In agreement with Helen's dating observations, he offered up this joke: "Gay males, and this is a complete joke, what do gay men do on the first date? Have sex. What do they do on the second date? What date?" He furthered elaborated that he thought there was a deep "difference between lesbian dating and gay dating."
Studies have shown that men, in general, have higher sexual expectations than do women on first dates, and research done by the Durham University of England adds that women have a harder time with casual sex then men. Other studies hold that both gay and heterosexual men are more likely to emphasize a partner's physical beauty, while both straight and lesbian women give more emphasis to personality.
"There are subtle differences, but at the same time, there are a lot of similarities; in the sense that, it's just a lot of uncertainty and insecurity. That's the number one problem with all dating," Hong concludes. Dating, it seems, holds the same trials and tribulations for all, regardless of sexual orientation.
With the hope of providing dating wisdom and advice to singles looking for love, Planet Love Match tackles these relationship topics and more on their dating advice blog. Planet Love Match looks to provide singles of all inclinations, ethnicities, sexual orientations and lifestyles with a safe place to meet like-minded singles. To read more, visit http://blog.planetlovematch.com.
Planet Love Match Radio airs every Thursday night from 7-9pm Pacific Time on LATalkLive.com. Hosted by Jennifer Tapiero and Josh Nasar, the show encompasses all aspects of relationships, love, sex, dating, and finding love online. To catch up on Planet Love Match Radio visit http://blog.planetlovematch.com/page/Planet-Love-Match-Radio.aspx.
Planet Love Match Radio is sponsored by online dating website PlanetLoveMatch.com.
About Planet Love Match®
Planet Love Match® is a social dating website that provides singles with an immersive and interactive way to find and make connections online, no matter where they are. Providing free email and chat, over 2,500 dating niche communities, SafeCall®, F.R.E.A.K. Filter™ and over 50 ways to interact, Planet Love Match offers a safe and private way to create meaningful connections with like-minded people. Planet Love Match is powered by KABUUM®, the platform developed by Global Marketing Resources, Inc. that has 20 patent-pending technologies. Founded in 1995, GMRI is headquartered in Dunedin, Florida.