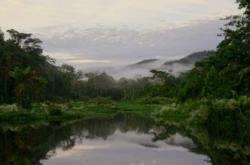 Making tourism socially sustainable is more important than ever before, as it creates a self-sustaining economic model that the local communities can rely on without depending on donor institutions.
Washington, DC (PRWEB) December 11, 2012
Today marks United Nations International Mountain Day and this year's theme is Celebrating Mountain Life. In time for mountain day, PlanetWildlife is launching brand-new tours to Peru's Manu National Park, a biosphere and UNESCO heritage site located at the confluence of the Andes Mountain Range, the Peruvian Amazon and the region of Cusco—the former helm of the Inca Civilization. Mountains like the Andes not only afford stunning vistas and unparalleled scenery, they are home to many native communities and endemic species. In fact, 12% of the world population lives in mountain areas, representing some of the most interesting and isolated international cultures. This year's Mountain Day calls attention to the need for sustainable mountain development as the key component to improving the livelihood of these often poor and remote mountain societies.
Sustainable tourism can provide these areas with much-needed economic development and jobs, while providing travelers with authentic and off-the-beaten path travel experiences. "Making tourism socially sustainable is more important than ever before, as it creates a self-sustaining economic model that the local communities can rely on without depending on donor institutions," says Mytri Indukuru, Director & CEO of PlanetWildlife India.
What better way to celebrate mountain life than by traveling with PlanetWildlife to one of the company's mountain destinations. It is an integral part of PlanetWildlife's mission to travel responsibly and benefit their host communities through travel. "PlanetWildlife promotes travel that gives communities a stake in the development of tourism in their region. Whether it is our Gorilla treks in Uganda and Rwanda, or our community trek in the Himalayas, all of our itineraries involve local communities and place importance on making tourism ecologically and socially sustainable," Indukuru says. This connection to the local communities offers travelers a rare experiential travel experience and an unmistakable sense of place.
This new Manu National Park five day/four night tour supports conservation and sustainable community development initiatives, while providing guests with a complete overview of Manu National Park and the region. During this journey, guests will sight diverse and endangered animals like the blue-headed macaw and large river otter in this wildlife-rich and remote biosphere. Travelers will also experience the culture, traditional dances and celebrations of the local communities; learn about the human history of the region; and visit a working a coca plantation—one of the region's most important and controversial crops.
In addition to this new high-altitude itinerary, PlanetWildlife features many existing trips to the mountains, which support mountain communities and their sustainable development, like these two trips to the Himalayas.

On the Amazing Leh - Community Service Trek, travelers will trek through the most scenic parts of the Himalayas for 13 days/12 nights and learn about endangered snow leopards (and see one if they're lucky!). Three days of the tour is devoted community service in the Spango Valley, where guests will work with local agricultural communities on building livestock enclosures.
Travelers will also interact with mountain communities on the 18-day Rhododendron and Red Panda Trek and experience the folk dance, culture, rituals and cuisine of these mountain communities.
For further information on responsible tourism, itineraries and tours, please visit planetwildlife.com, or email: info (at) planetwildlife (dot) com. For global media inquires please contact Talia Salem at talia (at) planetwildlife (dot) com.
About PlanetWildlife:
PlanetWildlife is an international sustainable travel company that specializes in wildlife travel. It is backed by highly successful entrepreneurs and managed by a professional team who are passionate about wildlife and have been involved in a variety of conservation activities over the years. PlanetWildlife.com features more than 300 itineraries to Africa, Asia, and the Americas comprising a diverse range of photography safaris, hiking expeditions and bird-watching adventures, as well as ocean cruises to the Arctic and Antarctica.
Most tours offer daily departure dates and each is well organized, competitively priced, environmentally responsible, and tailored to suit the requirements of group or individual travellers. All tours are led by highly qualified and experienced leaders, and aim to leave a minimal negative impact on the environment. Respected travel industry professionals and wildlife experts work in consultation with PlanetWildlife and are instrumental in designing each itinerary. The company takes a comprehensive approach to sustainability by promoting a greater understanding and respect for local cultural, social and environmental issues through tourism and its corporate social responsibility initiatives. It is part of PlanetWildlife's corporate policy to fund select awareness drives and wildlife conservation programs and welcomes suggestions from the public in this regard.