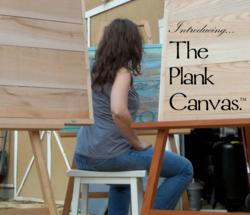 By keeping our costs down and getting our hands dirty, we can compete.
Mattaponi, VA (PRWEB) December 05, 2012
Planked Art™ LLC, a small art company in rural Virginia, announced plans today to manufacture a new product called the Plank Canvas™: a self-framed, planked wood panel that will be an alternative to the traditional canvas in the art supply industry. They plan to operate from the owner's barn. To fund the capital needed for equipment, they've gone straight to potential customers by launching a project on crowdfunding website, kickstarter.com.
The art supply industry currently offers only fabric canvases and multiple paper options, though historically wood panels were used for hundreds of years before fabric canvases became the norm. Planked Art LLC was started to sell the artwork of its founder, Jacqueline Hart. During construction of the first wood planked panels for her, they recognized the opportunity to become a supplier for other artists and craftspeople. "There's simply not a current supplier for these panels, despite the demand for finished works on them. We've learned some of the reasons for that, and they are centered around cost," she said.
Hart cites her barn as an invaluable asset in a global economy where so many companies opt to produce products overseas. "It's a warehouse and factory in one. It means low overhead. It means we are the labor force. By keeping our costs down and getting our hands dirty, we can compete." She also sites her financial approach as strategic, "Ten years ago we lost our shirts with a company laden in debt. This company was launched painfully slowly, but with no borrowed funds. We want to launch this product the same way, which is why Kickstarter was a great fit."
Kickstarter gives companies a venue for offering their design and creative projects directly to the public for funding, bypassing bank loans and private investors. Instead of company shares, project backers choose rewards in exchange for their backer dollars. Rewards typically include the product to be produced itself.
The Plank Canvas ™ Kickstarter project was just launched and will be active through December 29th. Rewards for project backers include Plank Canvases and promotional items.
Artists, suppliers, designers, or diy'ers interested in learning more about Planked Art's new product, the Planked Canvas™, can go to their live project site, http://www.kickstarter.com/projects/theplankcanvas/the-plank-canvastm, for more information.
About Planked Art LLC
Planked Art LLC is a small business in Mattaponi, Virginia offering painted and printed artwork on wood planked panels. The founder, Jacqueline Hart, is the designer of the Plank Canvas.™
Jacqueline Hart, founder
Planked Art LLC
804-785-2130
plankcanvas(at)gmail(dot)com
http://www.plankcanvas.com