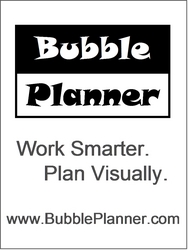 Southlake, Texas (PRWEB) June 30, 2008
A new day planner from Bubble Up! seeks to capitalize on the positive traits associated with Attention Deficit Disorder (ADD) such as an ability to see the big picture and multi-task, while minimizing the negative aspects such as boredom and frustration with details. The paper day planner uses an exclusive feature called Bubble Maps, which give a visual representation of goals, projects, and tasks.
Bubble Up! has been producing unique time management tools for over two years and found that many of its customers had been diagnosed with ADD or ADHD. This prompted the company to develop a tool with this group of creative individuals in mind. The resulting product, known as The Bubble Planner | 360 Binder, lays out goals, projects, and tasks spatially like a desktop rather than in a list format. This design is like brainstorming with boundaries.
"We believe that everyone has within them right now the power to create startling and powerful change, thereby, experiencing success like they never thought possible. All that's missing for many people is the right knowledge and effective tools. It's our hope that The Bubble Planner | 360 Binder provides that solution for everyone, especially those who have been neglected by the traditional planner companies," said Bill Tyler, Co-Founder of Bubble Up!.
The concept of Bubble Maps taps into the brain's associative properties connecting thoughts to specific locations. This memory technique, known as the Method of Loci, was taught by Aristotle, and is still used by memory experts today. This way of thinking is believed to be the reason most people lay items across their desk instead of in one big pile.
Jennifer Koretsky, noted author of Odd One Out: The Maverick's Guide to Adult ADD and Founder of the ADD Management Group, LLC comments: "For adults with Attention Deficit Disorder (ADD), details are a drag. We tend to see the big picture and want to jump straight to the finish line, wishing we could skip all the steps in between. Unfortunately, this perspective often causes us to become overwhelmed when it's time to start a project. We know where we want to end up, but we don't know where to start...The Bubble Planner is a great tool for keeping track of your daily goals and tasks."
For additional information on The Bubble Planner, contact Bill Tyler or visit http://www.BubblePlanner.com to attend an upcoming live (FREE) 60-minute teleseminar.
About Bubble Up!:
If you are committed to working toward attaining the life of your dreams, one that combines creativity, achievement, and purpose into one powerful force, you can trust that Bubble Up! is committed to providing you with all the tools necessary to help get you there.
Contact:
Bill Tyler
Bubble Up!
817-281-7375
http://www.BubblePlanner.com
###