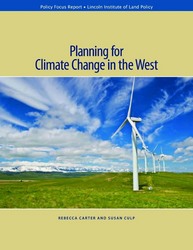 Climate change mitigation will only happen if implemented on the ground, locally.
Seattle, WA (Vocus) February 3, 2010
Planners in the Intermountain West must focus on the economic savings of mitigating and adapting to climate change as they tailor federal and state efforts to suit local and regional needs, according to a new report published by the Lincoln Institute of Land Policy (http://www.lincolninst.edu)].
Planning for Climate Change in the West, by Rebecca Carter and Susan Culp, acknowledges the critical role of local planners in confronting challenges posed by climate change. It also addresses the region's many political, cultural, demographic, and geographic factors that can be barriers to innovation and effectiveness. The report can be downloaded at http://www.lincolninst.edu/pubs/1744_Planning-for-Climate-Change-in-the-West
"State and federal initiatives are important, but mitigation and adaptation will only happen if implemented on the ground, locally," said Armando Carbonell, senior fellow and chairman of the Department of Planning and Urban Form at the Lincoln Institute.
"Western planners are emphasizing sustainability or economic efficiency, rather than climate change, in their decisions to manage water supplies, reduce energy consumption, increase transportation efficiency, and protect open space," said Susan Culp, the report co-author and project manager of Western Lands and Communities, a joint venture of the Sonoran Institute and the Lincoln Institute. She cited a survey of nearly 50 government staff and elected officials in the Intermountain West indicating local skepticism that climate change was a problem in many communities. According to the research, a significant number of residents in these communities are unconvinced that climate change is human-caused and they perceive the issue as global and remote.
Planning for Climate Change in the West is the latest Policy Focus Report from the Lincoln Institute. It was released today at the New Partners for Smart Growth conference in Seattle, an annual symposium on sustainability and land use that runs Feb. 4-6 and includes presentations by Housing and Urban Development Secretary Shaun Donovan, Environmental Protection Agency Administrator Lisa Jackson, and Department of Transportation Secretary Ray LaHood. The report is available at the exhibition booth of the Lincoln Institute and Sonoran Institute and can be downloaded free online at http://www.lincolninst.edu.
The Intermountain West, primarily arid landscapes that include all or a portion of 11 states west of the Rocky Mountains, is in a unique position when it comes to climate change. Climate change impacts are expected to wreak particular havoc on the region, yet it remains difficult to pursue many mitigation or adaptation strategies for political and cultural reasons.
The West has been shaped by dramatic fluctuations in its water and energy resources, land use patterns, economy, and a climate known for its extremes. In the decades ahead, the hydrology of the region will become even drier, leading to drought, heat waves, diminished mountain snowpack, earlier snowmelt, catastrophic wildfires, and disruptions to natural processes and wildlife habitat.
Faced with the challenge of both adapting to these impacts, and contributing to mitigation through the reduction of greenhouse gas (GHG) emissions, planners in western communities should adopt the policy language of cost-effectiveness, the report says. An array of smart growth strategies, with an emphasis on land use and transportation policies, double as climate solutions leading to more resilient communities: building codes and standards, compact mixed-use development, transportation alternatives, distributed and renewable energy, water resource consumption and planning, preservation of open space and agriculture, and mitigation of wildfire impacts. To integrate climate-oriented policies into land use and development agendas, the report encourages planners to:

Mobilize the political will. Focus on sustainability, economic and energy efficiency, and the co-benefits of local actions, rather than politically controversial policies and goals.
Recognize local action and citizen participation. Coordinate state and local activities to address climate change, and use public education about climate change impacts to foster citizen participation and buy-in for local programs.
Establish peer community networks on a regional scale. Develop peer learning networks with guidance from state climate action plans and regional initiatives to help smaller communities learn from each other.
Identify resources and a variety of options. Refer to state climate action plans region-wide for a variety of strategies and ideas that communities can select and apply to their own needs and circumstances.
Adapt climate science to local planning needs. Seek out current information and tools in reports, Web sites, and other resources that can help planners translate available climate science for local use, and develop a baseline level of GHGs as a first step in measuring climate strategies and results.
Local planners in the Intermountain West face both the challenge and the opportunity to ensure a sustainable future for the region, where the need to respond to potential climate change impacts is particularly urgent. This report presents a regional context and reliable data, case studies, and planner-recommended guidelines for western communities to spur local actions that can minimize those threats.
About the Authors: Rebecca Carter is a foreign service environment officer with the U.S. Agency for International Development being posted to Indonesia. She was formerly the adaptation manager for ICLEI-Local Governments for Sustainability, USA, and climate change analyst for the Sonoran Institute. Susan Culp is a project manager at the Sonoran Institute, responsible for managing research and policy analysis projects associated with Western Lands and Communities, a joint venture with the Lincoln Institute.
About the Lincoln Institute of Land Policy: The Lincoln Institute of Land Policy is a leading resource for key issues concerning the use, regulation, and taxation of land. Providing high-quality education and research, the Institute strives to improve public dialogue and decisions about land policy.
About Western Lands and Communities and the Sonoran Institute: Western Lands and Communities is a partnership of the Lincoln Institute of Land Policy and Sonoran Institute focused on shaping growth, sustaining cities, protecting resources, and empowering communities in the Intermountain West. The Sonoran Institute inspires and enables community decisions and public policies that respect the land and people of western North America.
Planning for Climate Change in the West
Rebecca Carter and Susan Culp
2010 / 56 pages
ISBN 978-1-55844-203-0
Policy Focus Report
Anthony Flint
Lincoln Institute of Land Policy
617-503-2116
anthony.flint(at)lincolninst(dot)edu
# # #