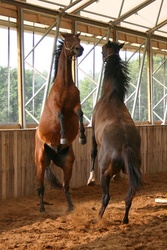 LEXINGTON, Ky. (PRWEB) August 27, 2007
Corporate retreats, from team building to management planning. Located on the 65-acre Caerindoll Farm in central Kentucky, this $2 million venue surrounded by rolling equestrian farmland provides an ideal setting for executive roundtables and planning sessions.
Why bring your team to the Kentucky Bluegrass? Organizations are being asked to do more with less, and success is dependent on the cohesiveness of teams to make that happen. Working with the dynamics of a horse herd gives tremendous insight into team dynamics.
Our goal is to help teams succeed in two ways:
Building a Cohesive Team
Having a cohesive team is the cornerstone to the success of strategic planning. Success of the team is dependent on:
-- Collaborative efforts
-- Gaining insight into each other's styles of interaction
-- Resolving conflicts
-- Enhancing communication
-- Developing leadership skills
-- And strengthening relationships
Our powerful approach builds on team and individual insight (http://www.universalreins.com/slide). Teams begin moving forward together through an experiential learning process based on Equine Guided Education (EGE). Much like humans, horses are social animals and have defined roles within their herds. They have distinct personalities, attitudes, and moods. Most importantly, horses mirror human behavior without judgment and provide a powerful demonstration of the dynamics of the human team. Learn more about "Why Horses?" at http://www.universalreins.com/why_horses.html.
Strategic planning
Strategic planning is critical to the success of every organization and at every level of management (http://www.universalreins.com/off_site_retreats.html). Get results:
-- Clarify your corporate or team vision
-- Discuss strategy
-- Make key decisions
-- Define roles and responsibilities
-- Set your priorities
-- Establish action plans
Retreats are customized for clients based on need, goals and objectives. Investment of time for an effective, off-site retreat can be significant, and our goal is to ensure clients realize a return on that investment for the long-term.
Universal Reins provides services year-round, and welcomes the opportunity to tailor a session to meet the needs of your team. For additional information, visit our website at http://www.universalreins.com.