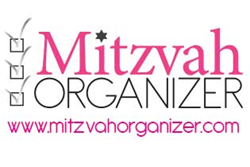 "We learned about their challenges, issues, frustrations and needs and then went to work to build the best tool possible," stated Sheri Lapidus, Founder of MitzvahMarket.com.
New York, NY (PRWEB) September 16, 2014
Mitzvah Organizer, the new, comprehensive web-based B'nai Mitzvah software, was created to ease the planning process, which can often start two years ahead of time, for the busy, often overwhelmed parent. The program, based in the cloud, took shape after years of communicating with thousands of parents in the throes of planning their children's' simchas. "We learned about their challenges, issues, frustrations and needs and then went to work to build the best tool possible," stated Sheri Lapidus, Founder of MitzvahMarket.com, the company that developed Mitzvah Organizer.
Temple honors, budgets, candle lighting poems, guest lists, hotel welcome baskets, RSVPs, buses, décor, favors --there are a myriad of tasks that go into planning a Bar/Bat Mitzvah celebration. With so many details to keep track of, even the most organized person can accumulate a dining room table's worth of brochures, estimates and lists to compare and contrast.
Now there is a comprehensive solution, unlike any other, that works for today's over-scheduled family: The Mitzvah Organizer created by Mitzvah Market. Mitzvah Organizer (http://www.MitzvahOrganizer.com) is an interactive B'nai Mitzvah planner that auto-updates information, tabulates expenses, and can be accessed quickly and easily on all internet-connected devices-- phones, tablets and computers. Behind colorful icons are pre-designed reports, vendor comparison sheets, and easy to share lists. Users can completely customize their event, including specifying who else in the party-planning process can access the information. When the party is over and all the thank you notes have been sent, the information is still accessible, and can be used or updated for the next Bar/Bat Mitzvah or other party or celebration in the family.
"This web-based planner will simplify this often complicated day or weekend in so many ways," says Lapidus. "Imagine pulling out your phone and walking into your party space with a seating chart in hand, allowing Grandma to arrange her own tables on her iPad, or emailing the sweatshirt sizes of all your guests to your vendor while you are at work."
The life of a parent is busy enough juggling sports, afterschool activities, religious school, and carpools while supervising homework, household chores and careers. Add planning a Bar/Bat Mitzvah and it can become overwhelming. After many reader requests, the experts at Mitzvah Market pooled their cumulative knowledge, reviewed reader experiences, and spent a year creating a dream tool that covered all the bases and simplified the planning process, the Mitzvah Organizer.
MitzvahMarket.com, founded by Sheri Lapidus after planning her own child's celebration and discovering a lack of resources, is now part of Davler Media offering the largest and most authoritative resource in the world of invaluable information to Bar/Bat Mitzvah families. The integrated multi-media platform includes an annual publication, Mitzvah Market Magazine, http://www.MitzvahMarket.com, six annual Celebrate! Party Showcases (http://www.celebrateshowcase.com) , email newsletters and social media.
DONATION TO MASORTI
For every purchase of Mitzvah Organizer ($69.95), a donation will be made to Bar and Bat Mitzvah programs for children with disabilities through Masorti. The Masorti Movement's Bar and Bat Mitzvah Program for Children with Disabilities is Israel's only national program providing bar/bat mitzvah preparation and Jewish enrichment for children with disabilities. This program has brought joy to thousands of families who never thought they would be able to experience such a simcha. The process gives families a very real objective for their children with disabilities and provides an all too infrequent opportunity to celebrate their accomplishments.
What Users Say About Mitzvah Organizer:
Having never planned a Bat Mitzvah before, your software was a true life saver. It helped me stay organized, generate lists for all of my vendors as well as monitor my budget. Our Bat Mitzvah was this past Saturday and I'm now onto the last stage with organizing the gifts for the thank you cards. Thank you, your program helped me stay sane!!!
Ellen List, CT
I've just started using the Mitzvah Organizer for my sons bar mitzvah in May, 2015. Let me first tell you that this is not my first time hosting a bar mitzvah!! Having done the first one the traditional way (3-ring binder and spreadsheets), the Mitzvah Organizer is great!! My favorite part is the guest coordination tools. I love that I can look at who is invited to what events!! It makes it so easy!! I'm looking forward to using it to manage my invitations and rsvp's!
Lisa B, Doylestown, PA
When planning our older daughter's Bat Mitzvah, I actually posted on Facebook asking if anyone knew of a Bat Mitzvah planning website. Most people laughed. Fast forward one year and I am enjoying using your Mitzvah Organizer for our younger daughter's Bat Mitzvah. Thank you
Dara C, Hollywood, FL
Great system to get our event running smoothly.
Andy H, Chattanooga, TN
###